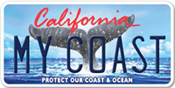 Support our programs by purchasing a
WHALE TAIL® License Plate
Resources for California Educators
WHALE TAIL® Grants Program
Schools are eligible to apply to the WHALE TAIL® Grants Program for funding to support coastal and marine education projects. Educators reaching underserved communities, including multicultural and inland areas, are especially encouraged to submit proposals. You may request up to $50,000 and applications are accepted once a year in the fall.
Schoolyard Cleanup Program
Want your students to participate in Coastal Cleanup Day but can't get them out on a field trip to a beach or local waterway? Want to show them that environmentally responsible behavior can begin at their school and in their own neighborhood? Interested in a real world data collection and problem-solving experience that takes place right on school grounds and supports your Next Generation Science Standards? You can organize a Schoolyard Cleanup and accomplish all of these goals.
Waves, Wetlands, and Watersheds Science Activity Guide
Waves, Wetlands, and Watersheds is a classroom and community activity guide, first printed in 2003, that addresses issues such as endangered species, marine debris, coastal geology, water use, and much more. It is carefully aligned to the California State Science Content Standards for grades 3 through 8, and includes "Community Action" lessons adaptable for all ages up to and beyond 12th grade. The guide is available for free from the California Coastal Commission. Call or email for more information or to request an orientation workshop for your area.
Our Wetlands, Our World High School Activity Guide
Our Wetlands, Our World provides information and activities to help high school students learn about the importance of wetlands and to become involved in the restoration of these valuable, unique environments. It also helps bring State Content Standards to life by linking science concepts to local resources. The focus of this 2004 guide is on Upper Newport Bay in Orange County; however, much of the information is applicable to other wetland sites.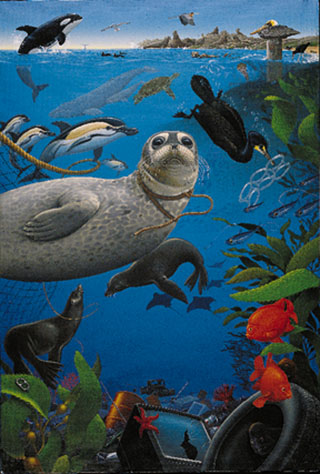 Save Our Seas Curriculum
Save Our Seas is a marine curriculum of hands-on activities to help students understand the effects of marine debris on coastal wildlife and habitats. Written in 1993, it was designed for K-12 grades and can be used in conjunction with a beach cleanup. Request on our online Order Form.
Measuring a Blue Whale in the Schoolyard
Blue whales are the largest animals known to have lived on earth, and they can be seen right off the coast of California! Just how big are they? Could a blue whale fit in your schoolyard? This schoolyard activity offers three methods of increasing complexity for comparing length and height of large objects.
Educator's Guide to Beach Cleanups
This Educator's Guide provides specific tips for teachers, parents, and youth group leaders who plan to do a cleanup with their students, whether for Coastal Cleanup Day, the Adopt-A-Beach Program, or independently, at a beach, shoreline, or inland location. It includes practical strategies, links to lessons and internet resources to enrich the experience, and more. Available as a webpage or PDF.
Kindergarten Lessons on Global Warming
Developed in 2008, these classroom activities introduce the topics of global warming (The Earth has a Fever!) and the origin of our drinking water (Our Melting Ice Cube) to a kindergarten level, with tips on how students and their families can help protect the earth.
Save Our Seas Seal Poster
Educational poster (at right) illustrating the problems that marine debris pose for marine animals. Large text reads: "Thousands of species live on the California coast. Only one is destroying it." Please limit your request to one poster per instructor/classroom. Request on our online Order Form.
Creeks to Coast Directory
Creeks to Coast is designed for anybody interested in learning about watersheds and the marine and coastal environment. It describes and links to organizations throughout the state that offer education programs and other resources to the public. Search the Creeks to Coast Directory now.
---
The following videos, DVDs, and CDs are available for online viewing or for loan to California educators. They are available for a two-week period and the only cost to you is the return postage. A $25 charge is applied for each item not returned. Please fill out our online Order Form.
Please note: Some of the DVDs listed are burned discs. Please request VHS tapes if you are unsure if your player will read burned DVDs.
(If the DVD doesn't work in your DVD player, try viewing it in a computer.)

CHILDREN'S MUSIC:
VIDEO - Recommended Online Viewing and to Borrow from our Library:
---
Coastal Art and Poetry Contest
The California Coastal Commission invites all California students in grades K-12 to participate in the Coastal Art & Poetry Contest. The deadline to submit entries is at the end of January.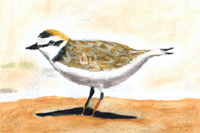 Coastal Stewardship Pledge
The Coastal Stewardship Pledge is a way for Californians of all ages to commit to protecting our coast and ocean. A Coastal Steward Class Pledge is also available, which includes activities specifically chosen for the classroom and background information on each activity.
Adopt-A-Beach®
Adopt-A-Beach® is a year 'round program that encourages the public to help keep our beaches clean. In order to "adopt" a local beach, volunteers agree to clean the beach at least three times a year. (We will accept school groups that can only make it out for one day.) Thousands of civic organizations and schools have taken advantage of this opportunity to be a part of the solution to ocean pollution. The program is free. Recycling bags and trash bags are provided. Find associated lesson plans and other tips in our Educator's Guide to Beach Cleanups. .

Coastal Cleanup Day
Every year on Coastal Cleanup Day, hundreds of thousands of people worldwide clean up debris and fill out data cards that track the types of litter collected from our beaches and waterways. This data is compiled to form a powerful statement about the quality of our beaches and oceans. In California, the cleanup takes place at over 700 sites from San Diego to the Oregon border and as far inland as Lake Tahoe. The broad scope of Cleanup Day demonstrates that marine debris and ocean pollution are watershed problems, and that litter in your neighborhood may eventually end up in the ocean. Coastal Cleanup Day is held on the third Saturday in September. Find associated lesson plans and other tips in our Educator's Guide to Beach Cleanups. Coastal Cleanup Day kicks off COASTWEEKS, an annual three-week celebration of our coastal and water resources, which includes activities such as nature walks, festivals, restoration events, and more.
---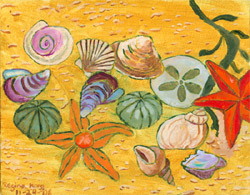 Agua Pura: Examining Salmon and Steelhead in California Communities
This Salmon and Steelhead Curriculum targets sixth-grade students both in and out of the classroom through multi-disciplinary, hands-on instruction. It covers information on these critical fish species, highlights their relationship with healthy watersheds, and explores how people affect salmon and steelhead and vice versa. The unit was created by UC Cooperative Extension and Adopt-A-Watershed.
Albatross Research and Plastic Pollution Prevention
Activities about plastics and seabirds were developed by the organization Oikonos to guide teachers of students in grades 8 - high school. Activities include dissecting an albatross bolus, categorizing the plastics they eat, learning about albatrosses, and tracking them via satellite.
A Guide to the Side of the Sea,
A Teacher's Guide for Field Trips to Rocky Intertidal Areas
A Guide to the Side of the Sea was produced by California State Parks. It is designed to assist teachers who will be taking their students to visit tidepools. This resource includes science background for educators as well as lessons and activities that can be used before, during, and after a field trip.
MARE Program (Marine Activities, Resources, & Education)
The Lawrence Hall of Science at UC Berkeley developed teacher's guides to marine environments for grades K-8, with each grade focused on a particular habitat. Students at entire schools can participate together for an "ocean immersion" experience. A WHALE TAIL® grant funded aligning the units for kindergarten and 1st grade with the Next Generation Science Standards as well as Common Core standards.
Youth Exploring Sea Level Rise Science Educator Guide
YESS developed a series of sea level rise lessons for high school students through a WHALE TAIL® grant to the County of Marin. This series involves hands-on, experiential learning and covers: an introduction to sea level rise causes and impacts; how to collect data, including collecting photographs through the California King Tides Project and interviewing community members; and sharing the results of student research. Includes links to many related resources.