Resources for California Educators
Coastal Commission Programs and Resources | Recommended Streaming Videos | California Environmental Education Interagency Network | California Environmental Education Events Calendar
Contact the Coastal Commission's Public Education Program at coast4u@coastal.ca.gov
California Coastal Commission Resources and Programs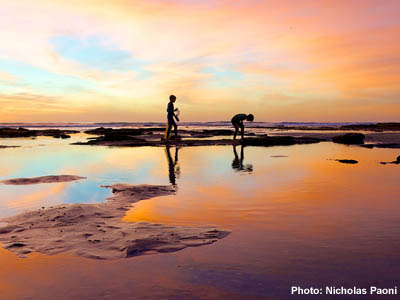 Environmental Justice Resources for Educators and Students
Learn about the concept and history of environmental justice, and access videos and classroom lessons for middle and high school students.
Coastal Art and Poetry Contest
The California Coastal Commission invites all California students in grades K-12 to participate in the Coastal Art & Poetry Contest. The deadline to submit entries is at the end of January.
Climate Video Challenge
The Coastal Commission invites California middle and high school students to present a video response to the question, "What is your vision for a thriving future?" The entry deadline for this video challenge is at the end of May.
At-Home Learning Resources
Find a wide variety of lessons and activities that work well at home, appropriate for teachers and parents of students kindergarten through high school.
King Tides Project and Sea Level Rise
The California King Tides Project offers many opportunities for students and teachers in science and humanities. Get ideas on how to incorporate this project into your classes and also find sea level rise education resources on the King Tides Resources for Educators page.
WHALE TAIL® Grants Program
Schools (as well as nonprofits, tribes, and other government entities) are eligible to apply to the WHALE TAIL® Grants Program for funding to support coastal and marine education projects. We strongly encourage projects that engage communities that have historically received fewer opportunities for coastal and marine education and stewardship. You may request up to $50,000 and applications are accepted once a year in the fall.
California Coastal Voices
California Coastal Voices is a free, project-based learning guide and online toolkit for middle and high school teachers. Consisting of six units, or "projects," that introduce students to coastal conflicts, challenges, and scientific and policy issues, the emphasis is on problem solving and communication. This learning guide was designed to address California's Next Generation Science, Common Core, and History-Social Science standards. Download teacher resources and student activities and access slideshows, videos, articles, and much more.
Schoolyard Cleanup Program
Want your students to participate in Coastal Cleanup Day but can't get them out on a field trip to a beach or local waterway? Want to show them that environmentally responsible behavior can begin at their school and in their own neighborhood? Interested in a real world data collection and problem-solving experience that takes place right on school grounds and supports your Next Generation Science Standards? You can organize a Schoolyard Cleanup any time of year and accomplish all of these goals.
Build Personal Fishing Line Containers
Student groups can help keep fishing line out of our environment by taking part in the Stow It Don't Throw It program. Students collect used tennis ball (or similar) packaging and construct personal fishing line canisters that help people keep their used line contained until they can get it to a recycling station or dispose of it safely in the garbage. Our Clean Boating Program will distribute the containers you construct or your students can take them directly to fishing piers, marinas, or boating supply stores to get them into the hands of people who need them.
Personal Trash Choices Activity
This group activity for youth or adults asks participants to think about and to argue for how they relate to trash items in their lives.
Plastic Properties Investigation
This demonstration or small group activity has students investigating the phenomenon of a plastic bottle in water. Does it float? Does it sink? What are the implications of its properties?
Gallery of Sand
View magnified photos of sand from more than 25 beaches, which can be used to support sand-related lessons in Waves, Wetlands, and Watersheds or as phenomena to launch other student work.
Measuring a Blue Whale in the Schoolyard
Blue whales are the largest animals known to have lived on earth, and they can be seen right off the coast of California! Just how big are they? Could a blue whale fit in your schoolyard? This schoolyard activity offers three methods of increasing complexity for comparing length and height of large objects.
Learn about Oil Spills and Marine Debris.
Waves, Wetlands, and Watersheds Science Activity Guide
Waves, Wetlands, and Watersheds is a classroom and community activity guide, published in 2007, that addresses issues such as endangered species, marine debris, coastal geology, water use, and much more. With groups of lessons for each grade 3 through 8 and Community Action lessons adaptable for all ages up to and beyond 12th grade.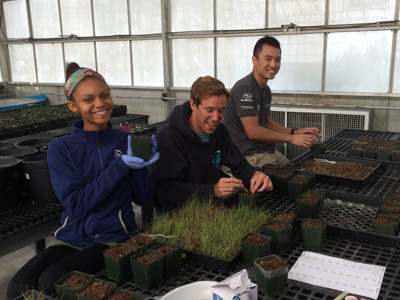 Our Wetlands, Our World High School Activity Guide
Our Wetlands, Our World provides information and activities to help high school students learn about the importance of wetlands and to become involved in the restoration of these valuable, unique environments. The focus of this 2004 guide is on Upper Newport Bay in Orange County, however, most of the content is applicable to other locations.
Educator's Guide to Beach Cleanups
This Educator's Guide provides specific tips for teachers, parents, and youth group leaders who plan to do a cleanup with their students, whether for Coastal Cleanup Day, the Adopt-A-Beach Program, or independently, at a beach, shoreline, or inland location. It includes practical strategies, links to lessons and internet resources to enrich the experience, and more.
California Environmental Education Interagency Network
The California Environmental Education Interagency Network (CEEIN) is a state government consortium of environmental educators representing various state agencies and departments. Learn about CEEIN and the many environmental education resources available from the State of California and its partners, and access a statewide calendar of environmental education events and opportunties.


Recommended Streaming Videos
Topics:
Community engagement and coastal management | Climate change | Environmental Justice and redlining | Marine and coastal biodiversity, and general ocean info | Marine debris | Ocean acidification