We are mobilizing people all along the California coast to clean up and document debris that was washed away from Japan during the March 2011 tsunami.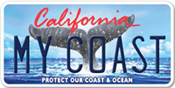 Support our programs by purchasing a
WHALE TAIL® License Plate
Adopt-A-Beach®
How Do You Adopt-A-Beach®?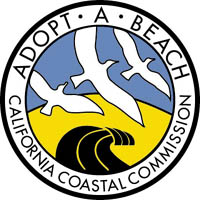 When a group "adopts" a beach, they commit to cleaning it at least three times per year, although school groups can fulfill their obligation with a single cleanup. Groups are encouraged to re-adopt at the end of the year. The Adopt-A-Beach® program fosters feelings of pride and ownership as volunteers begin to care for "their" beach.

The process is simple and has been received with great enthusiasm by corporations, service and professional organizations and hundreds of California schools. Contact your local beach manager or the Adopt-A-Beach® program at coast4u@coastal.ca.gov or (800) COAST-4U for more information and an application.
Adoptable Beaches & Beach Managers
See who adopted a beach this year!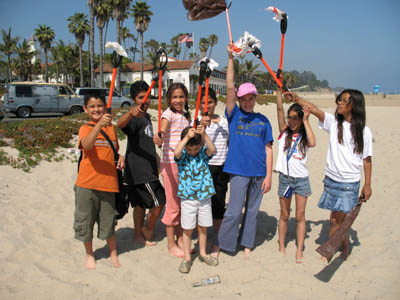 Boys and Girls Club "Torch Club"
East Beach, Santa Barbara County
/h6>
What Educational Materials are available?
Educating our young people is the single most effective strategy for the long term protection and enhancement of the environment. Thousands of young people have participated in the annual Coastal Cleanup Day and the Adopt-A-Beach® Program. Free resources are available for educators who want to engage their students, including the Waves, Wetlands, and Watersheds science activity guide; the Save Our Seas curriculum; the Creeks to Coast Directory; and an educational video lending library. If you would like to just obtain several "community action" activities which tie in to a beach cleanup (and form the final chapter of Waves, Wetlands, and Watersheds), they can be downloaded in PDF form, with related appendices. Follow or accompany your beach cleanup with a Schoolyard Cleanup, which removes debris from the environment before it reaches the ocean, and illustrates a direct connection to students' everyday lives.
A Beach Cleanup Educator's Guide is available online. This guide was developed for educators who want to engage in a beach or neighborhood cleanup with their students, and includes tips on how to hold a sustainable cleanup, links to web resources, and references to specific lessons within Coastal Commission curricula and videos in our lending library that would prepare students for or enhance a cleanup. .