What is Adopt-A-Beach®?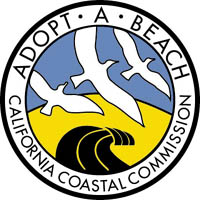 When a group "adopts" a beach, they commit to cleaning it at least three times per year, although school groups can fulfill their obligation with a single cleanup. Groups are encouraged to re-adopt at the end of the year, helping to tackle the urgent problem of marine debris head-on.
The process is simple and has been received with great enthusiasm by corporations, service and professional organizations and hundreds of California schools. Contact your local beach manager directly or the Adopt-A-Beach® program at coast4u@coastal.ca.gov or (800) COAST-4U for more information.

Find Adoptable Beaches & Beach Managers
What Educational Materials are available?
Thousands of young people have participated in the annual Coastal Cleanup Day and the Adopt-A-Beach® Program. Free resources are available for educators who want to engage their students in this service learning opportunity. On our Schoolyard Cleanup Program webpages, you can find links to many related classroom activities, streaming videos or videos available to borrow, recommended read-aloud books, downloadable slide shows, and more. You'll also find clear, step-by-step instructions on leading a cleanup with students in a way that connects with your California Next Generation Science Standards. These resources can be used at a shoreline cleanup or on the school grounds. A schoolyard cleanup might effectively accompany your shoreline cleanup or be an alternative that does not require travel. Removing trash from our environment prevents marine debris no matter where you find it.