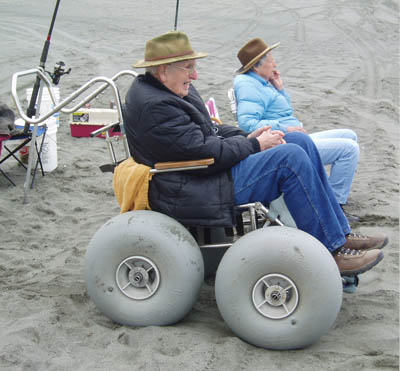 Beach Wheelchairs are equipped with large, wide wheels which can roll across the sand without sinking. They usually require users to be accompanied by someone pushing them, although several California locations offer motorized chairs which may be self-propelled.
All of the beaches on the map below own their own wheelchairs and lend them free of charge. Please contact beaches directly to make arrangements to use their chairs. Users may be asked to leave a form of personal identification while borrowing the chair. Chairs are most commonly available from a lifeguard or the entrance kiosk at a beach, although a few are handled by concessionaires whose names appear on the list. Some may be reserved ahead of time, while others are available on a first-come, first-served basis. Call ahead for availability.
The California Coastal Commission is sharing this information as part of a commitment to helping all residents of the state experience the beach firsthand. Do you know a California beach with a wheelchair that is missing from this list? Please e-mail coast4u@coastal.ca.gov and let us know.