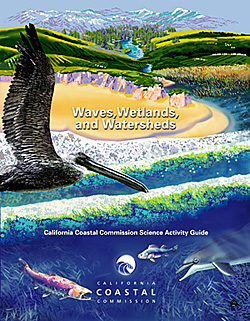 Waves, Wetlands, and Watersheds is a classroom and community activity guide for teachers published in 2007 that addresses issues such as endangered species, marine debris, coastal geology, water use, and much more. The guide is available to California educators for free from the California Coastal Commission, or it can be downloaded as a PDF.
Waves, Wetlands, and Watersheds is available in a printable PDF format. You may download the entire document, or download it by chapter. (Please note: Due to copyright agreements, three activities are not available in PDF format.) Download Waves, Wetlands, and Watersheds as a PDF.
Limited hard copies are available. Order a free copy of WAVES, WETLANDS, AND WATERSHEDS, while supplies last.
STANDARDS ALIGNMENT:
Waves, Wetlands, and Watersheds was designed to align with California's previous State Content Standards in science for grades 3 through 8, which are noted within each activity. The activities can also support student aquisition of the Next Generation Science Standards.
The State of California's Education and the Environment Initiative has developed a set of Environmental Principles and Concepts (EP&Cs) for elementary and secondary schools. A PDF is available showing how Waves, Wetlands, and Watersheds addresses the EP&C Learning Objectives.
SPANISH SUPPLEMENT:
Printable Spanish translations of the student handouts in Waves, Wetlands, and Watersheds:
• Spanish Language Student Handouts (1.7MB)
EXTENSIONS AND RESOURCES:
UPDATES: