About CEEIN | Environmental Education Resources
California Environmental Education Event Calendar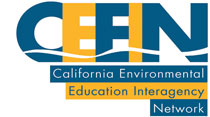 CEEIN is pleased to offer a calendar of events and opportunities in California relating to environmental education. Please submit your events for the calendar. Events will be reviewed and posted here if approved. Please contact the host organizations for more information and to confirm details. Host organizations are solely responsible for their events.
CEEIN members and partners hosted a wide variety of virtual Earth Day events. Find them here.
Due to COVID-19 "stay home" and social distancing orders, many of the following events have been cancelled, postponed, or altered. Please visit the organization websites to confirm events. Thank you for staying safe to protect yourself and others during this time. For updated information on the virus, please visit www.covid19.ca.gov.
Upcoming Environmental Education Events, by Date
(See events on a map)