Our Wetlands, Our World provides information and activities to help high school students learn about the importance of wetlands and to become involved in the restoration of these valuable, unique environments. It also helps bring State Content Standards to life by linking science concepts to local resources. The focus of the guide is on Upper Newport Bay in Orange County; however, much of the information is applicable to other wetland sites.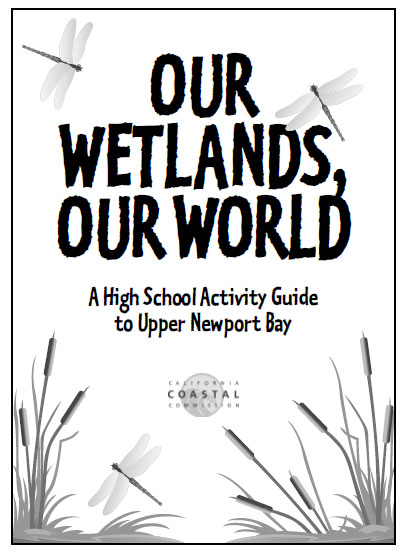 Download Our Wetlands, Our World, or request a hard copy.
PDF Format
Our Wetlands, Our World is available in PDF format. You may download the entire document, or download it by chapter.
Upcoming Workshops for Educators
(Please note that workshops are currently only being held in Orange County.)
If you would like to participate in an orientation workshop for Our Wetlands, Our World, please send an e-mail to myurko@coastal.ca.gov which includes your contact information, as well as the name of your school or program and the grade level that you teach. Please check back here for announcements of future trainings.
Coastal Restoration at Upper Newport Bay
Hands-on ecological restoration activities are available in the Upper Newport Bay through the California Coastal Commission's Community-Based Restoration and Education program. Depending on the time of year, students can participate in installing native plants, removing invasive weeds, mulching and watering previously installed native plants, collecting seeds or transplanting seedlings in our native plant nursery. These activities are the perfect complement to Our Wetlands, Our World to enhance your students' learning experience. For more information, please visit the program's home page. To sign up your class for a restoration work day, please contact Matt Yurko at myurko@coastal.ca.gov.
---
Extensions and Resources