About CEEIN | Environmental Education Resources | Event Calendar
Join CEEIN members and partners in celebrating the 50th anniversary of Earth Day through a wide variety of fun and engaging virtual events
About CEEIN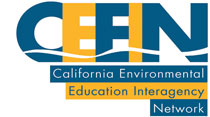 The California Environmental Education Interagency Network (CEEIN) is a state government consortium of environmental educators representing departments, boards, and commissions of the California Department of Education, California Environmental Protection Agency, The Resources Agency of California, UC Agriculture and Natural Resources, and the California Department of Food and Agriculture. Since 1994, CEEIN has fostered broad understanding of the State's environmental and cultural resources while affirming that education is essential to the development of understanding and respect for the environment. The CEEIN partnership provides a forum for its members to share resources, programs, and materials with California's public schools and students in kindergarten through university. The California Coastal Commission's Public Education Program hosts the CEEIN website as one of its responsibilities of the partnership. The site has previously been hosted by the California Environmental Protection Agency and the California Department of Education.
The primary goals of CEEIN are to develop a unified response to the environmental education needs of California's educators and local governments, and to assist with statewide educational reform movements. CEEIN accomplishments include the Curricula and Compendia Project, supporting the California Regional Environmental Education Community (CREEC) network, conducting workshops designed specifically for educators, and staffing exhibit booths at environmental and education conferences and fairs.
Please note that this webpage can be quickly accessed via the shortcut ceein.org.
NEW: CEEIN maintains an online calendar of workshops, conferences, and other events and opportunities related to environmental education and environmental literacy. Event hosts can submit their items to be included in the calendar.

Roster of CEEIN members in XLSX