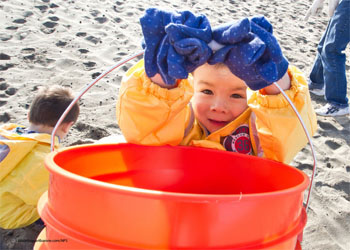 Ocean Beach, San Francisco
Photo credit Alison Taggart Baron-NPS


The California Coastal Commission is working to make
California Coastal Cleanup
Day even "greener." What does this mean? The Cleanup brings out tens of thousands of Californians who remove more than a million pounds of debris from our beaches, rivers, creeks, lakes, and waterways - so, the net environmental impact of the event is tremendously positive. However, the event itself has an environmental footprint.
For example, in 2009, Coastal Cleanup Day volunteers used more than 130,000 plastic bags and 135,000 plastic gloves during Coastal Cleanup Day. Countless cleanup sites held barbeques, lunches or snacks for volunteers, and many of these generated additional packaging and food-related waste. Thousands of volunteers drove cars to their cleanup sites around the state.
The Coastal Commission is committed to reducing the environmental footprint of Coastal Cleanup Day, but we need your help to do so! Please join our efforts this year by turning out to the Cleanup with a "Bring Your Own" philosophy. Over one-third of all cleanup participants brought at least one reusable item from home to the Cleanup in 2013 and as a result, the Coastal Commission was able to reduce its trash bag order by 50,000.
Here are some quick tips on what you can do to help:
Bring a bucket or reusable bag to the Cleanup for collecting trash (most Cleanup sites are equipped with dumpsters or roll-away bins so you can dump what you collect and bring your bucket or reusable bag back home).
Bring a lightweight pair of gardening gloves from home, instead of using the disposable plastic gloves provided at the Cleanup.
Bring a filled, reusable water bottle to the Cleanup.
Use public transportation, bike, or carpool to your Cleanup.
If you're bringing a lunch, plan ahead to make it "waste-free" lunch. What's a waste-free lunch?
If you want to work closely with the Coastal Cleanup Day Program to develop a big BYO idea for your Cleanup, please contact your
county coordinator
.
For teachers, you can make the BYO philosophy into class project. Assign your students to bring work gloves (if available) and an item from home to use in collecting small to medium sized trash items. (Larger trash items would need to be carried in bags, or hauled separately.) Some ideas for containers include:
Reusable bucket

It is estimated that it requires about 10,000 kilograms of oil, or about 67 barrels, in energy and raw material, to produce the amount of plastic bags used during the 2009 California Coastal Cleanup Day.

Half-gallon milk carton, opened
Cardboard oatmeal cylinder
Plastic 2-liter bottle with the top cut off
Reused plastic shopping bags
As containers are filled, dump them into a central collection site, such as a dumpster, trash can, or large trash bag. The containers can be recycled after the cleanup, or you can continue to reuse them by providing your students with potting soil and seeds or seedlings to create a small flower, herb or vegetable planter. Be sure to punch holes in the bottom first.
Another BYO idea is kitty litter scoopers for a hands-free way to grab the trash and leave the sand behind.
We're interested in hearing other ideas you may have to reduce waste on Coastal Cleanup Day.
Please send your suggestions to
coast4u@coastal.ca.gov
, or join our
Facebook discussion
. Let's all prepare for the best, and least wasteful, Coastal Cleanup Day ever!
BYO Ideas and Success Stories
Save Our Shores, the Santa Cruz and Monterey Counties Coastal Cleanup Day coordinator, received bucket donations from a number of local restaurants.
ECOSLO, the San Luis Obispo County Coastal Cleanup Day coordinator, secured a donation from Home Depot for 250, 5-gallon buckets for use on the beach.
Richardson Bay Audubon Center & Sanctuary, San Francisco coordinator of the 2009 Kids Ocean Day Cleanup, had students bring recycled containers, such as empty milk jugs, for collecting trash. After the event, they provided the students with wildflower seeds to plant in the empty containers.
Ian Butler, Pacifica: I have been doing a beach cleanup once a week for 3 years now, and recently I switched from plastic bags to burlap sacks. I ordered them on line for 50 cents each and they are great for beach cleanups; they're biodegradable, reusable, and any water or sand drains out as I walk. I highly recommend them as an alternative to plastic.
How do you make a waste-free lunch?
Pack lunch in a reusable bag or lunch box.
Sandwiches can be stored in reusable containers or simply wrapped in a cloth napkin.
Smaller items can be stored in reusable containers or tied up in a napkin.
Use a thermos or reusable bottle for drinks.
Fruit often comes in its own packaging—there's no need for a container for apples, oranges, or bananas.
Pack cloth napkins and durable utensils when needed.
Avoid single-use items like paper bags, plastic baggies, chip bags, pudding cups, etc. Families can save money and resources by buying larger packages and sending individual servings in a reusable container.
Lunch boxes and containers are available for purchase in a range of prices, or food containers and jars can be easily reused to make a free "trash free" lunch kit. Old dish towels can be repurposed as napkins for lunches.
If you have access to composting, collect any compostable items like fruit peels and take them home with you.
More "trash free" lunch ideas can be found on the following websites: