2007 Coastal Art & Poetry Contest Winners
Grades K-3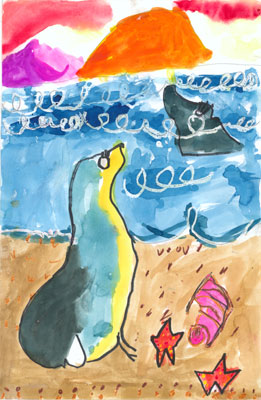 "California Sea Lions"
Shivya Ganesh
1st grade

"Jellyfish"
Sofía Tonatzin Ortíz
1st grade
Smart jellyfish float in the sea,
Beautiful jellyfish swim around me.
Colorful jellyfish, creature with no heart.
Big jellyfish, creature with no brain.
Slow jellyfish, float around the sea,
Brave jellyfish, sting like a bee.
---
Grades 4-6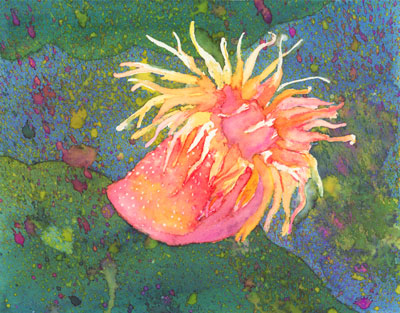 "Dancing Anemone"
Allysen Bay C. Merrill
6th Grade

"Remember the Beach"
Anna Highsmith
6th grade
Remember the beach
Remember the sand and the
Squishy, smooth feeling between your
Toes
Remember the
Ocean
Can you hear the waves?
Splashing
On the rocks
Do you remember, the sunrise, the
Laughter and the taste of your sandwich
When you got sand in it
And the first step in the endless ocean gave a
cold shock.
Remember building
sand castles.
The ocean smell of
Fish
And when you fell in the wailing
Water
And could taste the
Salt
Remember the sunshine and sailboats swimming across the wind
Remember the sunburn
Remember sunset
Remember the beach

---
Grades 7-9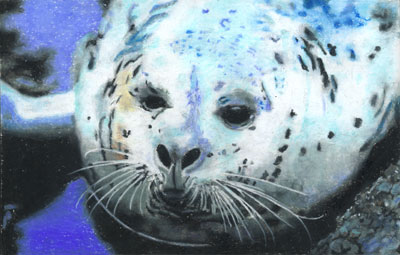 "A Seal on a Rock"
Kyra Baldwin
9th Grade


"Skipping the Waves"
Yvonne Lin
9th grade

Frothing, frisking, waves
dance and drench
our skipping bare feet.
clambering up our legs
almost touching
our hastily rolled up pants,
as we race against
its surging tide.
Daring it,
with laughter
floating across
the serene grey sky.
Challenging,
its cold breath
with our jackets,
billowing and flapping
like a gallant flag.
Goaded,
it bites back
in booming crashes,
as waves
rear and neigh
and charge back up,
the fine grainy beach,
gouging sand back
into its gigantic maw.
making our merry feet
scamper and trip.
Cold, cold sand
grasps our footprints
before its memory
is wiped and clean.
Exhausted,
we retreat,
laying down.
sand clinging feet
pointing up,
at the cackling seagulls.
resting,
smiling,
breathing
the sharp chilly air
whipping my hair
across my rosy face.
Creeping,
the surf
inches up,
and tickles the bottom
of our feet,
wishing us
to play again.
---
Grades 10-12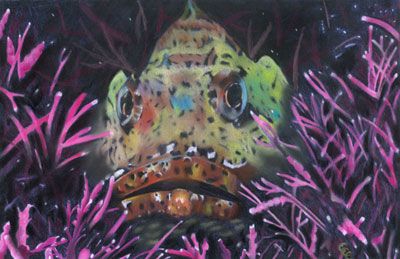 <
"Coralline Escape"
Ciera Cavanaugh
12th Grade

"I Am "
Alexandra Evans
12th grade
Who am I?
I am the sea
I am the algae that sway in each movement
I am the creatures that swim lazy and fast

Who am I?
I am the seal
Flipping gaily through the ocean
Teaching my children to swim

Who am I?
I am the reef
Telling my own history
And creating more day by day

I am the primordial ooze from which everything came
I am the keeper of secrets long lost to the world
I stretch to the far reaches of every part
I am the mother
I am the sea