Carbon Beach (Malibu) Public Shoreline Access Guide
Broad Beach (Malibu) Public Shoreline Access Guide

Capistrano Beach (Dana Point) Shoreline Access Guide
Orange County Beach Access Map

Mendocino County Coastal Trails Map
Coastal Access Program: California Coastal Access Guide

The California coast, from the majestic redwoods and rocky shores in the north to the palm trees and wide, sandy beaches in the south, is an area of unsurpassed beauty and diversity.
We are pleased to announce the thoroughly revised and expanded seventh edition of the California Coastal Access Guide, an essential travel handbook for both new and seasoned visitors exploring California's majestic 1271-mile shoreline. With the most up-to-date maps and information, it is a useful guide for all beachgoers – hikers, campers, swimmers, divers, wheelchair users, joggers, boaters – detailing where to go, how to get there, and what facilities and type of environment to expect.
The Guide, published by University of California Press, contains
Information on more than 1150 public access coastal areas
Clear descriptions of campgrounds, trails, recreation areas, transportation, and parking
Addresses, phone numbers, web sites, transit information, and hours of use
Information on wheelchair-accessible facilities
Easy-to-read charts listing facilities and topographical features
170 updated maps providing directions and driving distances
15 full-color county maps
More than 360 color photographs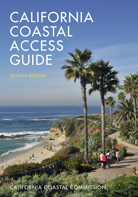 Also contained in this handbook is extensive information on environmental issues, updated to account for changing ecological conditions and conservation strategies. Feature articles cover a broad range of topics, including natural history, marine and coastal wildlife, environmental issues, and sports and recreation.

"Nothing less than a bible . . . the guide is no doubt the most comprehensive look at California's coastline published to date."
--Oakland Tribune
"Wonderfully detailed maps. . . . The graphics are clean, the design so clear that the book is splendidly easy to use."
--Los Angeles Times