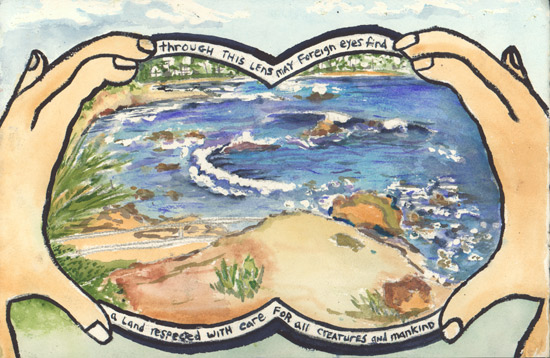 Share and read real-life examples of people caring for our coast. Please send us your pictures and stories.
Have fun, get inspired by the stories and photos below, and go out there and make a difference for our coast and ocean!
Submit your stories and photos of coastal stewardship by email to coast4u@coastal.ca.gov (please keep any photos to under 500 Kb in jpg format) or by postal mail to: Coastal Steward Stories, California Coastal Commission, 45 Fremont Street, Suite 2000, San Francisco, CA 94105

For more ideas on how you can protect the coast, check out these programs:
Coastal Stewardship Pledge
Adopt-A-Beach® Program
How Can I Help? page
---
2011 Coastal Steward Stories:
---
Dinah from Carson:
I had just quit my job in the corporate world and was at loose ends. I began to wonder what I wanted to do with my life when I looked back and recalled that the one constant in my life (besides my family) was the ocean. As a kid, I had participated in coastal cleanups, but as an adult I knew I wanted to not only continue that but to give more of myself. So, what did I do? I started to volunteer at the Aquarium of the Pacific in Long Beach, CA.

The AoP's mission statement is: To instill a sense of wonder, respect, and stewardship for the Pacific Ocean, its inhabitants, and ecosystems.

I knew the minute I heard that I had made the right decision. However, it wasn't until I started volunteering on the whale watching trips that I found my calling. I had always lived near the ocean but I don't think until that moment I realized how much of a gift the ocean is to all of us. The wonders and the mysteries are truly something to behold. And, being out on the water and teaching young kids who never saw the ocean but lived but a few miles away and introducing them to all the marine life that California has, or being there when a whale breaches and hearing everyone's gasp of awe is truly humbling. I feel through my volunteer work at the Aquarium of the Pacific that I, my colleagues, and really, every inhabitant of this planet are stewards of the ocean, and we have a responsibility to protect and conserve it.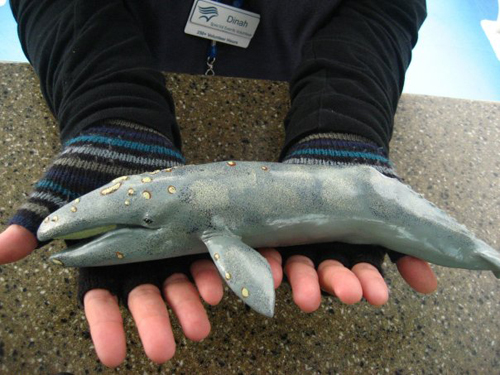 ---
Nora from Monterey:
I have a whaletail license plate, which helps coastal programs; whenever at the beach, I clean up any trash I see others have left behind; and obviously I don't ever litter at the beach!...I have been [cutting apart plastic soda rings] for 20 years or so. Also I always smash my yogurt containers really well, because I was told that birds also can get their beaks stuck in them...Overall I love the beach, always have been a beach girl, and have also belonged to the Monterey Bay Aquarium with an annual pass for the family for the last 15 years. We must love and protect our precious resources at the shore!
---
Harmony from Gualala:
Cooks Beach is about a 45 minute walk from my house (all down hill). Earlier this year I started walking to the beach and meeting my husband to watch the sunset. Sadly, it has been hard to enjoy the sunset with so much plastic washing up on our small beach...so as of January I started collecting the shards of plastic trash.
My friend Teresa VanHatten-Granath is a teacher at Belmont University in Nashville. She is on sabbatical this semester to study the Pacific Gyre. I gave her all of the plastic fragments I had collected since the first of the year and she is going to use them in her research and art project.
I plan to continue to pick up plastic every time I go to the beach. The pieces will probably continue to float in but at least they won't be floating back out. I am doing my small part.
Also, this experience has made me exceedingly aware of just how much plastic there is! As of March my husband and I have been on a personal mission to avoid as much single use plastic as possible. Let me tell you, it is EVERYWHERE! It has not been easy but we are making small steps everyday, like bringing fabric bags when we go shopping, buying in bulk with our own cloth bags, bringing our own reusable take out containers when we go out to dinner, using a stainless steel water bottle ALL THE TIME—especially on air planes to avoid those plastic cups, buying cheese from the deli counter and having it wrapped in paper, making our own bread...the list goes on and on. One of the most important things I try to do (and need to do more often) is to call companies that make products I can no longer buy because they are packaged in plastic. They need to know they are losing business.
Cheers to a clean coastline!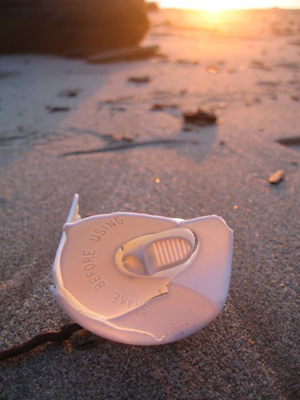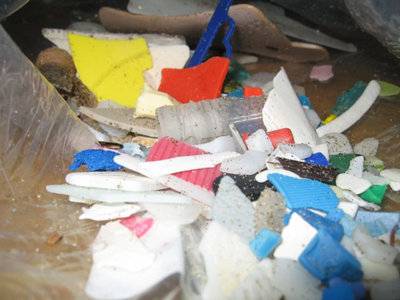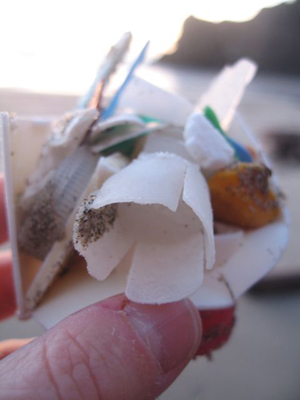 ---
---
Lisa from Oakland:
I walk to this small inlet beach on the Oakland/Alameda Estuary almost every weekday with my little dog George. Although the Bay was doing an awesome job spitting out the debris that didn't belong in the water of the Estuary, it saddened me to see how much trash washed ashore each day to rest on the beach near beautifully groomed lawns of the neighboring hotel. I felt I was visiting a sick, tired friend.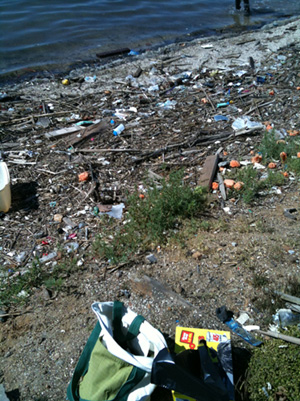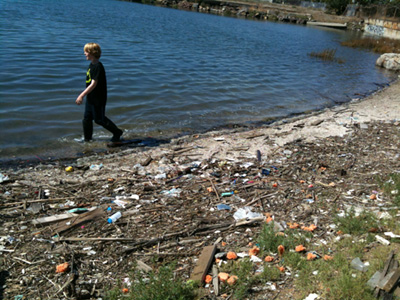 One afternoon my sister, my 10 year old son and I loaded the car with rakes, shovels, gloves and bags. It seemed impossible to overcome the amounts of plastic bags, lids, garbage and varied debris that littered the little beach. But after two hours, look what we accomplished!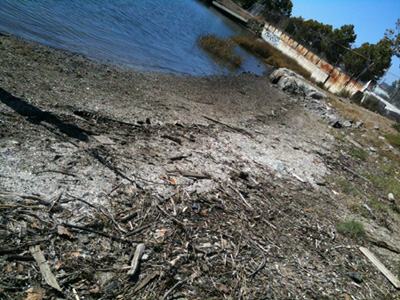 Now this beach may not be your typical California coastal beach but it is a treasure of open waterfront with a lot of potential. It needs regular help to finish its job of spitting trash out of the Estuary. So, if you happen to see us out there one weekend day raking, sorting and stuffing debris into bags...come join us. If you don't see us, consider filling your own bag to help out a tired beach friend.
---
---
Rhonda from Martinez:
The ocean is a natural beauty that always holds strength and power, while pounding away at the shore so gently. I grew up exploring the ocean shores and share this with my children. The beach walk is one that always clears my head, cheers me up, and brings me delight. To be able to give back, pay it forward, be a steward is a small task - one that I practice daily. I live inland—away from my beloved beach. Yet daily I pick up litter. My most rewarding find is any piece of Styrofoam. I cut apart six-pack plastics and those ubiquitous plastic bags are recycled too. Each collection insures that this piece will not be traveling down the stream, on its way to polluting the ocean waters nor harming wildlife. I smile because I visualize walking the sandy shores. I collect there too—things that don't belong on the shore go in pockets, bags, and finally a trash or recycling receptacle. My contributions are not all that immense.save for the huge bags we collect at the annual Coastal Clean-up day each September. But each piece I pick up ensures it is out of the environment and into the recycling loop. It may seem like one small thing, but when others see me and do as I do—it is a message that we care and we share for our coast.
---
Karen from San Francisco:
I run an environmental education program where we do classroom presentations throughout the Bay Area on where our tap water comes from and what we can do to save water. We reach over 10,000 kids per year through this program. One thing I'm doing now to reduce my footprint is to re-use the activity worksheets we use in the classroom for another activity (making a crumpled paper watershed model) instead of using separate, new sheets for each activity. This will save about two cases of paper each year. I'm also incorporating curricula about sustainable seafood (especially salmon) into our presentations.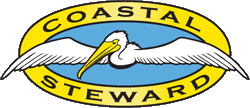 ---
Coastal Steward Stories and Photos, submitted in 2009:
---
Laura from Davenport:
Several times for my birthday I have invited my family and friends to help me clean the graffiti off the rocks of my favorite beach. Panther Beach is about 9 miles north of Santa Cruz on Highway One. After hiking down a steep trail you find an intimate cove with multicolor sandstone cliffs surrounding it, and a natural arch that leads you to a long sandy beach with more amazing colored and wind carved sandstone.
During the last 10 years graffiti has started to build up, especially after spring beach parties. The first time we did it we even found the day glow pink and red empty spray cans. My son the daredevil free climbed up 15 feet to sand off the highest writing. Others took wire brushes to names, gang symbols and profanity that were written over some of the most beautiful rock colors I've seen. It took us 3-4 hours and we got 95% of it off. Two years later we did it again - a smaller group and only 2 hours to clean it up. I've noticed when there isn't graffiti it tends to stay that way, but when there is graffiti it attracts more and more. I plan to keep re-visiting this beach for my birthday when the writing builds up. On your birthday you can ask your friends to do a lot for you, and with this project they all leave feeling very proud of themselves.
---
Marialyce from Altadena:
Start Them Cleaning Early! I served as a Beach Captain at Mobil Oil Piers in Ventura County for several years when my son Soren was a little boy. Because I'm a single parent and often didn't have or couldn't afford child-care, I usually brought Soren to my events, including to Coastal Cleanup Day in 1999. Below is Soren, at age 3, dragging a bag of trash almost as big as he is tall, to the dumpster area!
Soren is now 12, and I think thanks in part to this early exposure, he's an extremely litter-conscious young man, often complaining about classmates who've thrown trash (which he picks up, or asks them to), and he is still always willing to join me for public cleanup events. (We live in Los Angeles now and like the Friends of the LA River's annual May river channel cleanups.)
I continue to appreciate having had the opportunity to serve as a beach captain for CCD, and am proud to say that this beach area used to be very trashy—there is no county or state staffing or oversight at the site, and the local seagulls used to rip into and strew the contents of the orange litter bags that CalTrans was providing. Due to our group's influence, California Department of Conservation grant funds are now being used to provide two dumpsters year-round—one for trash, the other for recycling. This simple step has improved beach cleanliness significantly—the theory being, a little bit of trash will attract more trash; a clean beach helps influence most users to keep it clean.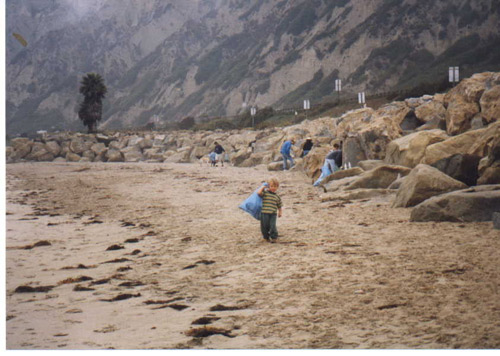 ---
Shannon from San Diego:
The San Diego Audubon Society is gearing up for another year of coastal conservation action. We've been working to address local coastal issues through both advocacy and hands-on restoration projects. Each year, SDAS hosts an estimated 12 volunteer work events to restore and maintain coastal habitat for birds and other wildlife. Several of this year's projects are highlighted below.
D-Street Habitat Restoration to Benefit the California Least Tern & Western Snowy Plover:
In collaboration with the US Fish and Wildlife Service and the Friends of San Diego Wildlife Refuges, we're working to improve nesting habitat at the D Street Nesting Site – part of the Sweetwater Unit of the San Diego Bay NWR and one of the most productive nesting sites for the endangered California Least Tern in southern California. This project includes removing invasive plants that serve as perches for birds that prey on terns and improving salt grass habitat used by the threatened Belding's Savannah Sparrow. A follow-on project will benefit the threatened Western Snowy Plover by grading and removing vegetation along a segment of shoreline to enhance foraging opportunities for Plover chicks, allowing the Western Snowy Plovers to use this site for nesting. This year we hosted over 250 volunteers at D-Street – we are looking forward to another great turnout this coming season.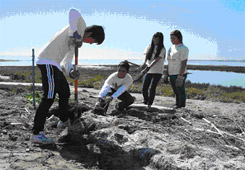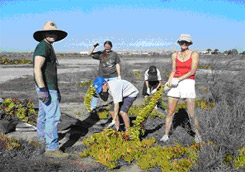 Mangrove Removal in the Northern Wildlife Preserve: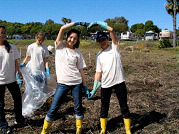 San Diego Audubon partnered with the UC Natural Reserve System and Aquatic Adventures to carry out a citizen-based science and invasive removal project in Mission Bay's Northern Wildlife Preserve. Invasive Grey Mangroves were removed over the course of several community work events held last year. Volunteers learned about the marsh, how this invasive plant was adversely affecting the endangered Light-Footed Clapper Rail, and then dug their heels in the mud and helped to rid them from the marsh. Although the Mangroves have been largely removed from the project site, SDAS will continue to work with the UC Natural Reserve System to carry out post-project monitoring activities and to build community capacity for continued stewardship.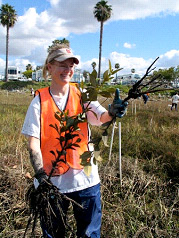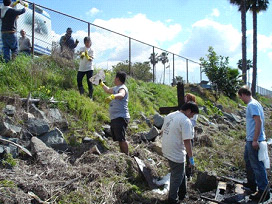 Holding the culprit – a mangrove!
---
Gillian from San Francisco:
I teach Marine Ecology in San Francisco to 11th and 12th graders. Throughout the year students participate in a lot of studying of marine conservation topics and do several action projects. In the fall students do a myriad of water quality testing on SF bay and Ocean water. While studying the ocean gyres students analyze albatross boluses. They take apart the boluses and record the mass of the plastics and mass of the natural elements. They do background research and write a complete lab write up about the data they gathered (all data is be shared among the classes, and over the years to maximize information and analysis). Students also watch a section from the Cousteau movie that illustrates the albatross and the plastics in their bellies as well as a section from Strange Days on Planet Earth showing the plastics in the sea. They also read several articles from our local paper that were published last year about the plastics in the pacific. The data gets displayed on a bulletin board on campus and is sent back to the organization providing the boluses. Later students will also participate in a beach cleanup and we relate back again to this study.
My marine ecology students also participate in LiMPETS monitoring of both the rocky intertidal organisms and the sand crabs at the sandy beach. They also complete a bird survey at Heron's Head Park and learn about environmental justice.
At the end of the year the students design their own final research project with guidance. Some do several methodical beach clean-ups and record the data about beach/day/weather effecting the debris found. Others will monitor for invertebrates, some will look at water quality, others will survey bird populations, etc.
I also have another two sections of 9th grade biology who all do 'eco-action' projects of various approaches after our ecology unit, but some do beach cleanups and others provide educational signs around campus, among many other projects. This year we also took the whole 9th grade to Heron's Head to participate in non-native plant removal.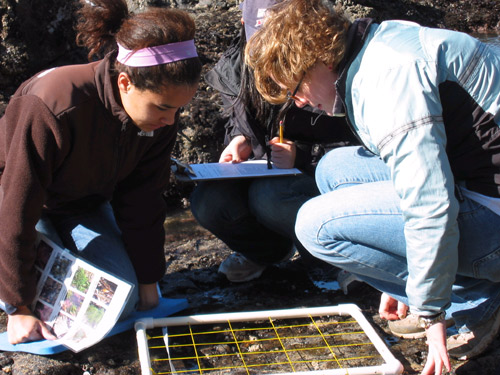 ---
Katherine from Orange:
Chapman University is broadening its commitment to environmental justice and service to the community in which we live by taking monthly trips each semester to Southern California wetland to do environmental restoration. We have been to five different wetlands on six trips this year, pulling weeds, watering seedlings, digging cement posts out of the ground, picking up trash, testing water quality, and more. We learn something about our environment each time—why invasive plants make flooding worse, why the blue footed clapper rail matters, why the Santa Ana River has been such a source of interest since Santa Ana was settled. It gets us out of the college bubble and allows us to give something back to the community—and the natural world.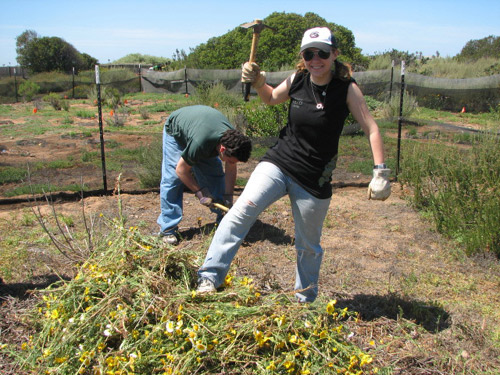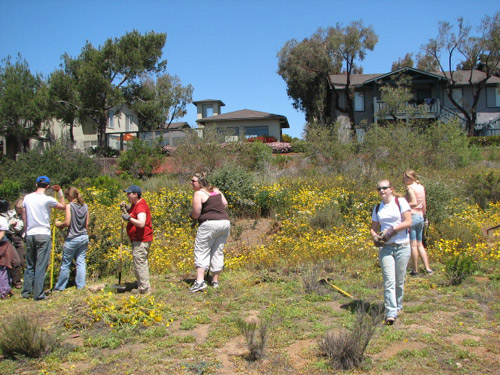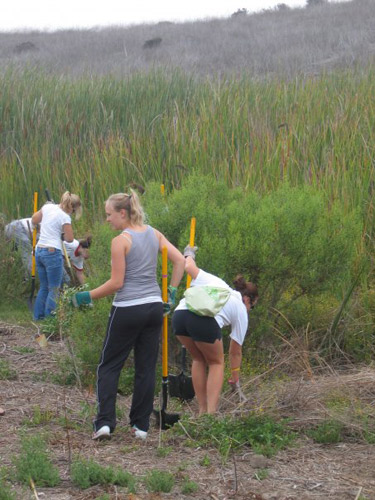 ---
Lori from San Diego: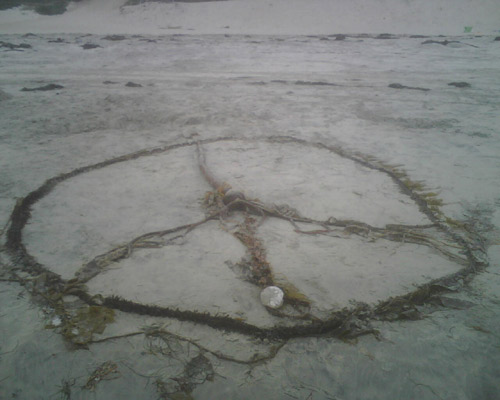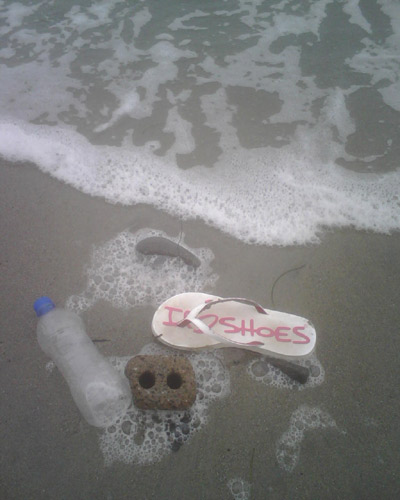 ---
Richard from Oakland:
Below is a photo of Bill Bardeen, one of the Lake Merritt Institute's star volunteers. For about ten years, Bill has been removing trash from our estuary, usually several times a month. He is part of a program that removes between 1,000 and 6,000 pounds of trash a month (it depends on how much rain we get).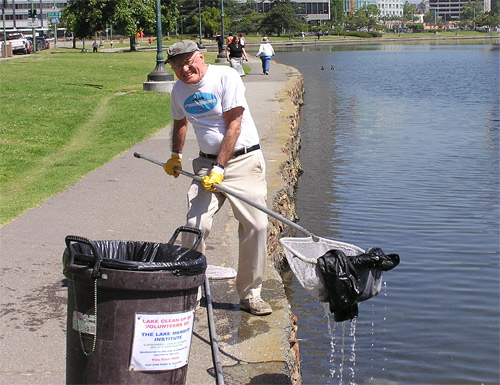 ---
Tanya from Oxnard:
My daughter Natalie's passion to protect our ocean and her desire to get involved makes her a true coastal steward.
She is leading the way.
Last year Natalie did a science project for her 6th grade class that came in first place and she had the opportunity to compete in a county regional science fair competition. She wanted to see what was the one biggest item of shoreline pollution on three local California beaches. The study found that plastic litter accounted for almost 90%. What she found to be the number one source of plastic marine debris was plastic tops, lids and caps. Not only were her study results upsetting to her, she was shocked to see first hand the effects of plastic on marine life by finding a dead seal with a plastic rope around its neck and dead birds lying on the shore. She thought and wondered what she could do to protect her local beaches, oceans and wildlife. She thought about ways to recycle all of these harmful things she found. She came up with an idea for a possible solution to raise awareness and reduce plastic waste from single-use beverage bottles. She asked the question, what if we add a redemption value on all plastic tops or if we got them to start manufacturing the tops so they couldn't fall off?
She wanted to raise awareness on the issue so she helped her mother organize a community beach clean up at her mother's work along with the city's volunteer program. With more then 125 community volunteers gathering at a local beach to help out, she created educational displays about ecological damage of trash on the beach to help raise awareness on the importance the ocean plays on all our lives.
Afterwards all the bottle caps were sent to Sacramento to help lobby in hopes we can come up with a way to eliminate single-use beverage bottle caps on the beach and protect marine life. Natalie continues to look for community involvement opportunities.
Natalie Nunez is a true coastal steward. I should know I'm her mother and ENVIRONMENTAL PROTECTION IS A FAMILY VALUE!
---
Crystal from Folsom:
The title of my Coastal Cleanup Story is "Neither Rain, Nor Snow…" These two photos are from two separate Coastal Cleanups done at Lake Natoma in Sacramento County (Folsom Lake State Recreation Area). The first photo is of a woman who brought her two children to one of our cleanups, but it turned out to be quite a chilly day. My mom helped bundle them all up in plastic bags to try and keep them warm! Kids – don't try this at home. The second photo is from another Coastal Cleanup, same location, but IT POURED THE ENTIRE MORNING (note the ranger wearing yet another fashion statement plastic bag to try and keep dry)! There were about 20 "die hards" who hung around and joined us for the BBQ, which had to be lit AND maintained under umbrellas, it was raining THAT HARD! We do several cleanups a year besides Coastal Cleanup, but CC continues to be my favorite (maybe because it was my first!).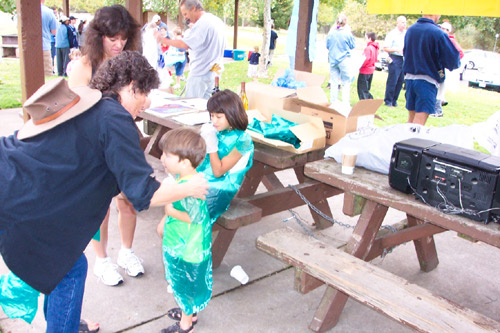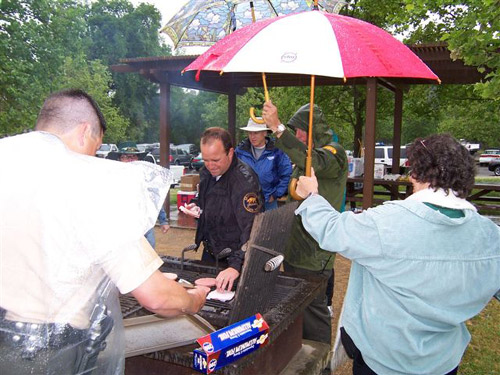 ---
Mauricio from Carpinteria:
Carpinteria is a "sleepy" beach side town nestled between the cities of Santa Barbara and Ventura. Despite its quaint, small town appearance, Carpinteria is subject to the same social issues of littering as its larger neighbors to the north and south. Since Carpinteria is treasured by so many, a handful of citizens have developed and implemented a program to help keep its waterways free of trash.
First a little background on our town. The Carpinteria Valley is comprised of a portion of the unincorporated area Santa Barbara County and the City of Carpinteria. The Valley begins in the foothills of the rural Los Padres National Forest, transitions into agricultural operations (primarily avocado orchards and flower growers) and ends with the urbanized areas of the City in the lowlands near the beach. The Carpinteria Valley is comprised of three major watersheds which intersect the valley as they run from the National Forest to the ocean: Carpinteria Creek, Franklin Creek and Santa Monica Creek. There are many species of animals, plants and insects that call the Carpinteria Valley home including the following protected species: White Tailed Kites, Belding Savannah Sparrow, Red Legged Frogs, Steelhead Trout, Tide Water Gobies, and the Two Striped Gartner Snake. The area is also inhabited by many concerned and dedicated community members who have set a goal to keep this a beautiful, clean and "sleepy" town. Unfortunately, as the creeks flow through the Valley, they are not only carrying water, but they are also carrying trash and debris that is not disposed of properly.
Over the years many local citizens have been cleaning Carpinteria Creek on an annual basis through volunteer efforts organized by the Carpinteria Creek Committee and Carpinteria Beautiful. In 2007, the creek cleanup effort was expanded to take on the challenge of cleaning all three creeks in the Carpinteria Valley in a single day. Franklin and Santa Monica Creeks flow into the Carpinteria Salt Marsh (which was just awarded the 2009 Coastal America Partnership award) and eventually the City beaches. Carpinteria Creek flows through the heart of the City of Carpinteria and into the Pacific Ocean bisecting the Carpinteria State Beach.
Since 2007, this collaborative effort has organized a total of four creek clean ups covering approximately 2.6 miles of creekbed at each event. There have been over 86 participants who have removed approximately 85 bags worth of trash and recycling from our local waterways. All of the various participants have contributed in their own way, including the City lending wheel barrows for ease of clean up in the channelized portions of Santa Monica and Franklin creeks and allowing the trash and recycling to be disposed of properly in City containers, to South Coast Habitat Restoration taking the lead on organizing the cleanups and bringing yummy donuts from the local bakery, to the Santa Barbara Channel Keeper and Carpinteria Creek Committee donating bags for the cleanups, to community volunteers and the California Conservation Corps providing the labor to walk and clean the creeks. Over the years untold numbers of plastic bottles, aluminum cans, plastic and paper bags, miscellaneous Styrofoam and other debris has been removed from the creeks. There have also been a handful of more obscure items removed from the creek during these cleanups such as bicycles, shopping carts, a couch, car parts, agricultural supplies and invasive plants (such as Arundo donax).
Over the years, the cleanup effort has morphed from an occasional weekend effort on just Carpinteria Creek to a comprehensive effort aimed at removing all the trash from entering our natural areas twice per year: once before the rainy season and once after the rainy season. The City of Carpinteria, which contains 85% of the clean up area, has begun to collect and record data from the cleanups in order to help inform local decision-makers when considering the creation of new local municipal code regulations aimed at helping to reduce the sources of trash entering our waterways. One example of note is the City's upcoming ban on Certain Non-Recyclable Plastic Food Containers, which will go into effect on September 1, 2009 and will prohibit restaurants and similar food providers from dispensing prepared foods to customers in disposable food service containers made entirely or in part from non-recyclable plastic. Local community groups are also taking a proactive approach to reducing the sources of trash before it can reach a creek. One group, Carpinteria Beautiful, has implemented a campaign in the Carpinteria Valley to reduce the community's dependency on disposable plastic bags by giving away and promoting the use of recycled and reusable grocery bags.
These combined efforts have lead to a program which has great participation and support from the community. Media coverage for each event is provided by the local weekly paper, the Coastal View News, which helps to promote the events and educate the public about the positive work being done right here in their own backyard. Given the success of the cleanups so far, we look forward to the biannual creek cleanups becoming an even larger and more popular community event that serves to keep our waterways debris-free well into the future!
Participants in the creek cleanups include: Carpinteria Creek Watershed Coalition, Carpinteria Creek Committee, City of Carpinteria, California Conservation Corps, Carpinteria Beautiful, Santa Barbara Flood Control District, Cate School, Santa Barbara Channel Keeper, South Coast Habitat Restoration and Carpinteria citizens.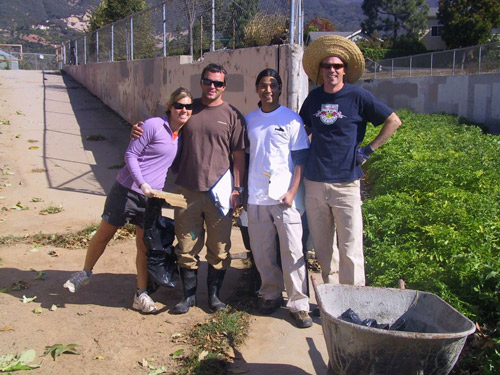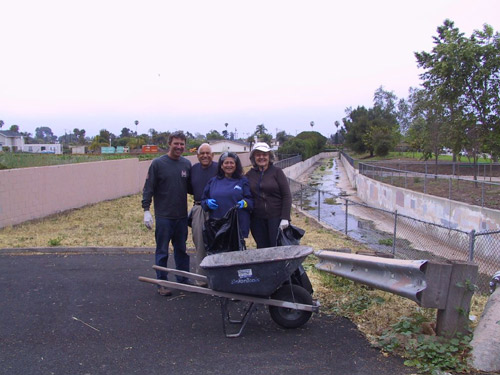 ---
Sandra from Oxnard:
KIMBERLY'S GREEN & PURPLE FIFTEENTH WETLAND BIRTHDAY PARTY
"It all started, when I decided to start planning for my 15th Birthday Party. Since green and purple are mine and my friend's favorite colors, those were the two colors I wanted to have as a theme for my party," said my middle daughter, Kimberly. "It's going to be a "Green Party", to save the earth and reuse recyclables and, and, and." We purchased neon green tablecloths, paper goods and napkins. Purple plastic baskets held her lunch and birthday cake forks.
Her menu was considerate of pescatarian, vegetarian or special needs diet foods. The grape tomatoes, zucchini and pearl onion shish kabobs were grilled to perfection. Pecan-Raspberry salad was delicious, as well as the rotelli pasta Italian bell pepper salad. Fruit drinks were mixed and we were settled at the Port Hueneme Beach, in Ventura County, ironically adjacent to the Ormond Beach Native Plant Nursery and Wetland RESTOR Project acreage.
The scene was set for her friends from high school and relatives from town to enjoy the gorgeous day at our local park. Kimberly knew, exactly, which table she wanted to settle at. At this point, I realized that the path to the protected wetlands was two steps away from our site. From this point on, the party developed a theme of conversations involving conservation, preservation, activism, recycling, healthier living and a general appreciation for our neighborhood and its need to thrive.
The teenagers did not shun the suggestion to take a nature hike. They really like the squirt bottles they created and this made my godson, Joey, extremely happy. With his thumb in his mouth, clutching his one and only security blanket, he collected plastic bottles from the tables and trash bins! He was terribly concerned with the environment's future and took his coastal stewardship of the land seriously. This is why I honor him with special mention in our story.
In, essence, this was something that developed because people cared. Kimberly is unique enough to create any outcome in the things she sets her sights on to achieve.
---
Penny from Laguna Beach (excerpted):
In 1999, six of Orange County's visitor and convention bureaus joined forces to become one of two $25,000 sponsors for the California Coastal Commission's 15th Annual Coastal Cleanup Day. The sponsorship team included Anaheim/Orange County Visitor & Convention Bureau, Huntington Beach Conference and Visitors Bureau, Newport Beach Conference and Visitors Bureau, Costa Mesa Tourism Council, Laguna Beach Visitors Bureau and Dana Point Chamber of Commerce. Charles Ahlers, president of the Anaheim/Orange County Visitor & Convention Bureau, spearheaded Orange County's efforts. The coalition of visitor bureaus teamed up with a host of hospitality industry volunteers from attractions, hotels, restaurants, airlines, tour companies and car rentals – just to name a few!
Through the multi-tiered outreach efforts of the Orange County Visitor Bureaus, participation in 1999's event exceeded 4300 volunteers throughout the county, representing a 32% increase over 1998's volunteer count. In addition, streamlined organization and placement of this volunteer force yielded a substantial increase in the trash and recyclables that were collected in Orange County. The volunteers in Orange County collected more trash and recyclables than any other county in the state, according to the California Coastal Commission's statistics.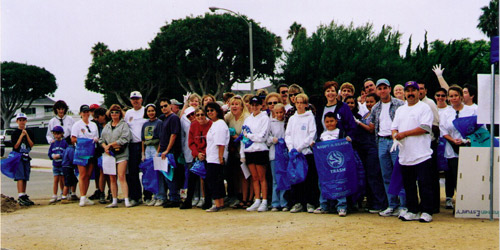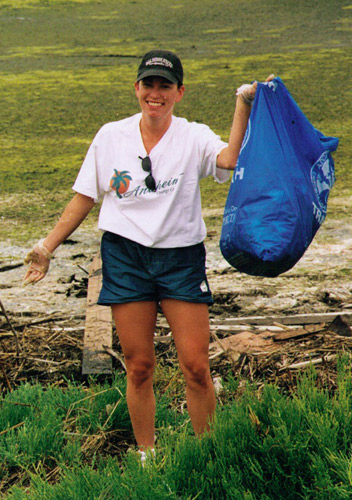 ---
David from Huntington Beach:
The Amigos de Bolsa Chica has been advocating the preservation and restoration of the Bolsa Chica wetland since 1976. It was the first organization to coordinate clean-ups in the wetland, including the tern nesting islands. In addition to clean-ups, educating the public in the value of a restored wetland was our major activity. One of the most satisfying events in our public education campaign was in response to the construction of a navigable ocean entrance that was to serve a proposed Marina del Rey-type development in the Bolsa Chica wetland. In August of 1985 the Amigos de Bolsa Chica organized a public rally to show how much Bolsa Chica State Beach would be lost to the inlet. Banners were placed on the sand to mark the breadth of the channel. The demonstration, known as "Hands Across the Sands", attracted nearly 600 people, who lined up along the state beach, hand in hand, to show the extent of the loss to one of California's most popular beaches. The Amigos' goal was fulfilled in 1989 when the land owners dropped all plans for the marina development. (Photo courtesy F. Scott Nickerson)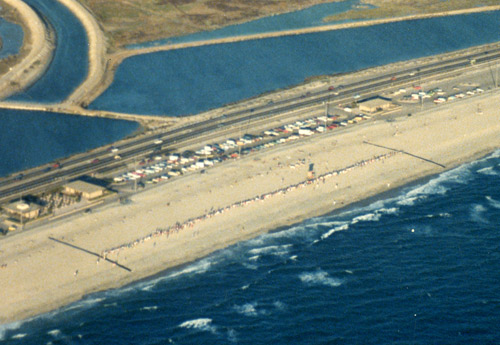 ---
Janet from Santa Barbara (excerpted):
On May 12th, Chadd Koenig and Nole Cossart embarked on a journey from Gaviota to the Mexican border. This was no Princess luxury cruise. Dubbed as modern day "Huckleberry Finns", these two young men strapped their camping gear, food and hand-crafted wood alia surfboards onto 14-foot paddle boards to paddle nearly 300 miles...
Chadd and Nole call the Gaviota Coast home and are very concerned about the threat to alter this open landscape permanently. From the Santa Ynez mountain tops to the clear Pacific waters and spanning from Point Arguello to Coal Oil Point, this area has remained agricultural since the Chumash inhabited it...
Stopping at beaches and campgrounds along the way, Chadd and Nole met friends and strangers. When people asked what they were doing, they seized the opportunity to tell them about the importance of saving Naples and the Gaviota Coast and all of its biodiversity. Chadd explains, "The thing is, there's more real estate for sale now in Santa Barbara. than ever. So why are we building more houses, wasting more resources to build those houses and wasting space that's important to everyone in the community?"
After nearly a month of paddling past densely populated coastal landscapes, dodging freight ships, worrying about marine war games, the duo was finally greeted by the border patrol at the end of their trip. This was an adventure. More than that, it was a grand opportunity to raise awareness for the potential destruction of a precious natural resource.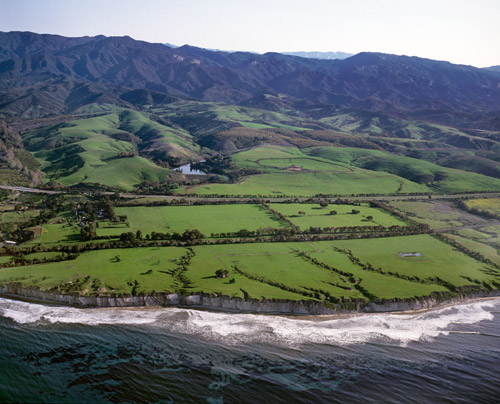 ---
Jim from San Diego (excerpted):
The Friends of Famosa Slough applied for and won a Proposition 13 grant and used a wetland restoration grant from the US Fish and Wildlife Service to excavate over 2 acres of West Point Loma Marsh that had been previously filled for development...The City of San Diego owns the Slough and they gave us an access permit to do the restoration...
Most of the excavated soil was reused on site for a series of mounds to partially isolate the Slough from the adjacent street to avoid the cost of transportation and disposal. The asphalt and other buried junk from the fill were removed for disposal, and much of the concrete was buried deep below the new uplands. The outer fringe of the previous fill material was left in place to form an isolated, cat-free island for (we hoped) bird nesting. The contractor added some soil to a portion of the island so that area would be above the highest tides for nesting. The Friends soaked this raised portion of the island with salt water to prevent weeds to facilitate bird nesting. The project included a trail to provide visitors with a new view of the Slough, particularly the newly-restored portion.
The non-wetland areas of the project were revegetated with wetland/upland transition plants near the water and with coastal upland plants elsewhere...The Friends have done the weeding, subsequent erosion control, and replacement of plants that did not survive...
We kept the entire area and the trail closed to public use except for special events for the two and a half years that it took for the upland vegetation to grow high and dense enough to discourage visitors from leaving the trail. In the meantime, two local Rotary Clubs helped us install a post and cable fence along the trail in preparation for opening the area, which finally occurred in 2008.
Wintering cormorants, grebes, ducks and shorebirds used the new wetland and open water areas from the first winter. Avocets and Black-necked Stilts started nesting on the island the first spring after construction. We have enjoyed watching the chicks forage all around the Slough accompanied by their very protective and noisy parents.
This year we were surprised to notice that fiddler crabs had taken over the shoreline around the new restoration project and that shore crabs adopted many of the rocks that were along the shoreline. In previous years we had only seen them along the older shoreline that had not been disturbed.
After we had a few clutches of Black-necked stilts this year, we noticed a few Forster's Terns attempting to nest on the mound on the island. Apparently they really liked it. We have seen fuzzy spotted tern chicks on the island and lots of juveniles begging food from adult terns. It seems like five to ten adult terns at a time fly around the Slough almost all day long bringing fish back to their offspring. Each tern appears to have a distinct route that it uses repetitively. We hope that the Slough will have enough small fish to keep these little beaks filled until they can forage elsewhere for themselves.
In 2006 we improved tidal flushing substantially by restoring a pipe under West Point Loma Boulevard that had been blocked in the 1970s. This was made possible by a grant from the California Wildlife Conservation Board...It was hoped that project would improve the value of the Slough for fish. That improvement may also be contributing to the increase in tern use of the Slough this year.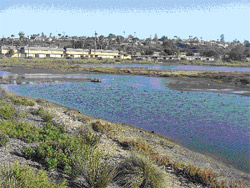 Revegetated upland in foreground, newly isolated island across middle of photo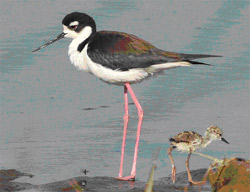 Black-necked Stilt adult and chick that hatched on the new island, June 2006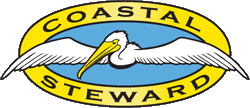 ---
Read the following Coastal Steward Stories from 2007:
---
Viviana from Lawndale:
For the past four years, over 400 students at Environmental Charter High School (ECHS) have participated in the Plastics are Forever project. A grant from Captain Planet helped to launch the project, and now ECHS aims to further its impact by disseminating this project to other schools and organizations. In collaboration with the Algalita Marine Research Foundation (AMRF), ECHS students have studied in-depth the environmental effects of plastics in the marine environment and have assisted the research and advocacy efforts of AMRF.
The ECHS 9th grade students conduct sand sampling at a local beach to measure the quantity and types of plastics found in sand on the beach. This data is shared with AMRF, as part of a long-term longitudinal study of plastics in the ocean and beaches along the southern California coast.
As 10th graders, ECHS students deepen their study of plastics by analyzing the effects of plastics in the Pacific Ocean by dissecting the bolouses of albatross found on Midway Island. The albatross are endangered due in part to the large quantities of plastics they consume, mistaking it for plankton.
As 11th graders, ECHS students worked with Dr. Eriksen from AMRF to build a boat made entirely of discarded plastics. Dr. Eriksen sailed the boat 300 miles along the southern California coast, making stops along the way to educate students and the general public about the environmental problems caused by plastics, which never biodegrade. As seniors, ECHS students monitor three watersheds in Los Angeles for plastics: Ballona, San Gabriel, and the Los Angeles River Basin. The work of ECHS students at the Ballona Wetlands, documenting waste plastics in the environment, was included in an Algalita research paper which is being used in efforts to educate the Long Beach City Council on the impact of plastics in the environment and to promote a ban on plastics.
The Plastics are Forever project at ECHS has created students who are independent thinkers, consciousness citizens and stewards of their communities. We hope we can continue to share the wealth of knowledge to youth locally and globally so that they too can take a part in saving out planet.
---
Ryder from San Francisco:
First published in An Ocean Beach Diary (excerpted)
On Thursday, December 28, 2006, local birders as part of the annual Audubon Society Christmas Day Bird Count scoured San Francisco and the nearby area looking for all the birds they can find in the city environs. The annual counts are usually not scientific enough to be considered publishable in academic journals, but the count allows local birders to follow local trends and issues, especially the environmentally worrisome ones. In the past hunters would go out at Christmas time to hunt for birds. The annual Audubon Day Christmas Bird Count, more than one hundred years old, was initiated to counteract the harm bird populations suffered before the turn of the last century. Some birds had gone extinct, including the Passenger Pigeon, which once flew in flocks so large that they could block out the entire sky.
Dan Murphy, Sunset District resident and compiler of Audubon Christmas Day Bird Count, shared the results they found about the West side of the city. This year there was excellent weather, but the birders also go out in the rain and the wind. One hundred and two birders participated this year which is not a lot in a city of over 700,000.The preliminary results indicated that 169 bird species were observed in the city this year, which is on the high end of the normal variation. Focusing mostly on the West Side of the city:
Along the coast there were high numbers of Red-throated Loons, but low numbers of Pacific and Common Loons. Surf Scoters and other shorebirds were disbursed by the winds of the previous day. Forty six Western Snowy Plovers were observed on Ocean Beach, which Murphy said was a high, possibly due to more dog walkers obeying the National Park Service leash laws. Murphy complained that there are still dogs that chase birds along Ocean Beach. On the day of the count dogs were observed chasing flocks of Snowy Plovers along Ocean Beach. Murphy also points out that there is not a uniformed Park Service presence to enforce the regulations put in place to protect the Western Snowy Plover.
Also to be seen on Ocean Beach during the length of the year are Sanderlings, Willets, Godwits, Curlews, Whimbrels, Gulls, Terns, Brown Pelicans, Bank Swallows, Ravens and others.
Construction at the zoo resulted in less birds to be seen this year. Common birds like the Spotted Towhee and the Bewick's Wren were observed in low numbers, the cause: urbanization. Also vulnerable to extirpation (local disappearance ) are the California Quail, San Francisco's official bird, which were not seen in the Strybing Arboretum. Only a flock of six were observed in the Presidio. The Screech Owl and the Wrentit are believed to be extirpated from the city...
The take home message: protect San Francisco's natural areas for the birds as well yourselves. One can always pitch in by helping the Audubon Society or other environmental groups. Birds are symbols of freedom, which some appreciate and others are envious of. They are also indicator species whose success and problems indicate the health of the environment. With a diversity of habitats, San Francisco has a diverse assemblage of bird life. To be thanked: the birders who sing out their appreciation for our avian friends and our natural environment.
---
Kathleen from Oxnard:
(excerpted)
In 2007 I initiated some 17 bird rescues...[What follows are a couple that are] most memorable for me. I was walking along Oxnard-Shores beach with my German shorthaired pointer, Montana, when I got to the Mandalay generating station. The water was rough as it often is in the winter months and it was an incoming tide. I noted...there was a pelican fighting to stay above the waves. It was hard to imagine a pelican struggling like this unless it was being held down somehow. I got Montana tied up a distance away and waded out to investigate and found something was holding the pelican to the rocks...I had no knife, it was still dark and the water was very rough and cold. The tide was coming in and I was, well OK...afraid to go in...I ran back home to call animal control. It was too early to get anyone, so I made several calls and finally found someone who would come out and help. I feared the incoming tide would eventually drown the bird. He had to be exhausted...and I had no idea how long he had been in this position...I ran back with a knife (I am a good runner) and dove in and cut off the fishing line that was wrapped around his legs and wing holding him to the rocks. I was able to drag the bird toward me and hold him to my body for some warmth until another more experienced rehabber showed up. It was freezing! His eyes were still blue so I assumed he/she was very young...He looked right at me. From this point the juvenile brown pelican was transported to holding where he was warmed with heating pads and given liquids. He was then transported to Ms. June Taylor's bird sanctuary in Santa Barbara for rehab...then by someone else to San Pedro for holding and to determine if and when he could be released. I found out months later that he was successfully rehabbed and released.
There are many who do this type of work...Rarely are they given the thanks or even their existence noted other than by those who work with them. There must have been at least six...people involved in rescuing this one pelican. Taking time and making long drives from Oxnard to Ventura to Santa Barbara and on to San Pedro for a single pelican is worth some gratitude...
The duckling rescue was one for the books and I wish a photographer from National Geographic was there because it is amazing. Again Montana and I are doing our beach walk, often before dawn...Montana being the bird dog she is is off sniffing anything and everything. I look down at the waters edge and see Montana crouched down in play mode backing up from a moving body, a rat, a bird?...Then I see it, something I just can't believe. A brood of six baby ducklings are imprinting on Montana! Here a 70 pound German shorthaired pointer...crouched down in fear of these six peeping, yellow billed, balls of feathers walking all over her paws and following her every movement. She tries to escape and they keep coming...I called her to come and she behaved and right on her heels, much to her distaste, are these waddling little pieces of fluff and feathers. It was sight to see. I had no idea what to do. There were no adults to be located. And I am sensitive enough to my surroundings to note any adult ducks flying off prior to our arrival. And they would not be left, they followed Montana.
I manage to collect all six ducklings into my shell jacket...Again, not an easy task as they were popping out all over and now Montana was becoming more curious than afraid. So I am handling the dog on leash and attempting to hold six squirming, squiggling, peeping ducklings safely without crushing them. I walked at least a mile like this...I finally decide to stop at the power plant and find a box or get some help. Here I am wet, disheveled, walking in with an arm full of something moving and the guys quip, 'what you got there'? I tell them about the ducks and ask for a box. They are all giggles and they say sure as long as you can help us with this pelican, pointing to a very seriously injured pelican.
From here, I again run home with Montana to make the calls, and come back in my car to pick up the ducks. This is when I learn people are skilled at rehabbing only specific species. I picked up the ducks and continued the calls. No one would take them. I tried Fish and wildlife and finally found someone from the Parks Service that would take the pelican that later died. I did locate a Harbor Patrol officer who performed duck rescues -- unbelievable! I delivered them to Harbor Patrol and after much pestering found they were all healthy and eventally released. I will never forget the sight of those tiny ducklings following after a bird dog that was doing her best to get away from them. The look of shock and wide open, whites of the eyes showing was truly hilarious.
---
Howard from Santa Ana:
Here is a picture of myself at the 2007 Children's Education Water Festival in Irvine. We play a game with the kids teaching them about household hazardous waste, and the difference between storm drains and the sewer.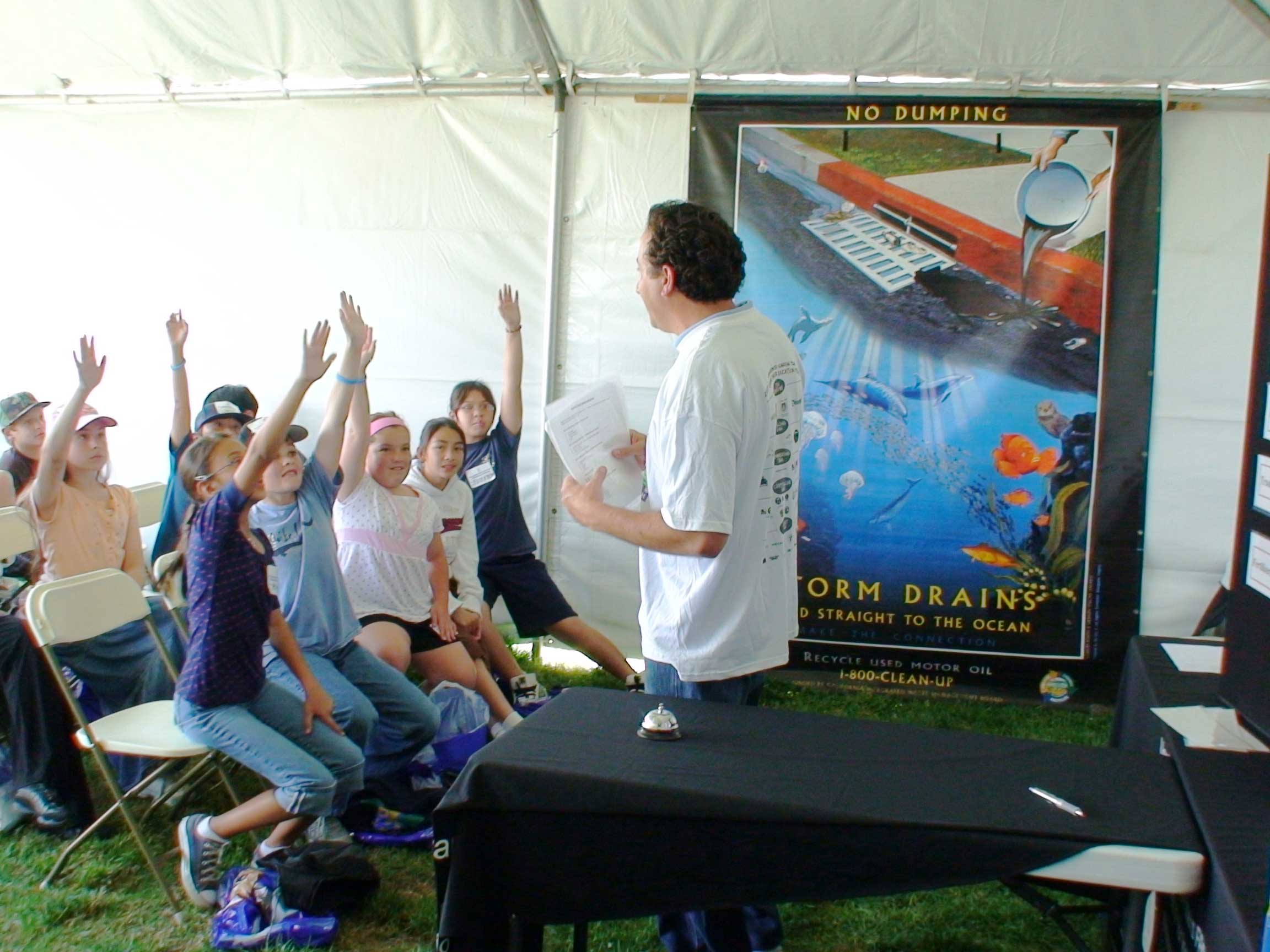 ---
Kim from Seal Beach:
Save Our Beach (a non profit 501c3 organization) governed by the "Board of Directors" in Seal Beach has been conducting beach cleanups and riverbed cleanups now for seven years and the city of Seal Beach has graciously provided parking passes for all of our participants as well as been very helpful in the entire process. Our mission is to make Seal Beach the cleanest beach in California and improve our water quality. Our intent has always been to improve education for everyone in Southern California through both the experience at our cleanups and the curriculum I've been taking to schools about the affect that urban runoff has on all of our lives and the quality of water as a result, and changing our habits to help reduce, reuse and recycle.
We also started doing some recycling at each beach cleanup—
1) We ask participants to bring old printer cartridges of any kind, as well as old cell phones and Staples recycles them and gives us a credit, which goes towards office supplies such as paper for both parking passes and community service credit, notepads for signing in sheets, printer cartridges, copies of the curriculum for schools, all for Save Our Beach.
2) We also ask participants to bring old prescription glasses and the Seal Beach Host Lion group in town takes them to Mexico to be reused.
3) We have a "Recycle Bin" at each beach cleanup of items that we've found over the years and the note on the box says "If you pick up a piece of trash today and you think could be recycled, please drop it in this bin….(We've found all kinds of balls, water bottles, sunglasses, ballpoint pens, toys, even an inexpensive camera that still worked, etc.) Also, if you see something in this bin that you could use, please take it with you—just be sure to wash it really well in hot or boiling water because it may have been at the beach for quite some time."
Our first beach cleanup was 10/28/2000 and was part of the national "Make A Difference" day and we had 428 people show up, consisting of residents, business owners, police dept, US Navy and Marines, fire dept, lifeguards, boyscouts, girlscouts, churches, CALPIRG, UCLA, UCLB, UC Irvine, Glendale Community College, Build Up LA, CA Dept of Conservation and First Lady Sharon Davis. It was at Make A Difference Day that I announced I would be starting a beach cleanup once a month and since then we have had over 20,000 participants.
View a slideshow of images from our cleanups.
---
Louisa from Albion:
Seaside Beach...is about ten miles north of Fort Bragg on the Mendocino County coast in Northern California.
I just started working with the Coastal Land Trust, which owns and manages Seaside Beach, this June 2007. We have been hosting monthly workdays to clean up trash on the beach and remove invasive plant species. There is a small subdivision on the bluff just south of Seaside Beach, called Ocean Meadows. This subdivision is the source of most of our Seaside Stewards, who take care of Seaside Beach without any expectation of money or glory. Two in particular, Jim Havlena and Elsie Wallin, walk Seaside Beach every morning and pick up trash and recyclables. Elsie Wallin has been making this walk and picking up trash here almost every day for twenty years. These people are some of my heroes!
Seaside Beach is one of the few beaches in Mendocino County which is easily accessible from Highway One. People literally pour out of their cars, trucks, motor homes, all manner of vehicles, to use this beach. There is a seasonal outhouse near the road which makes the stop even more imperative for some. There is no trash pick up, however, and not all users are conscientious about removing their litter, etc. from the site...
Every time I go to this beach I meet remarkable people, in addition to the volunteers that grace our Stewards events. About two weeks ago, I talked with a man whose wife had died of cancer the day before; he came to Seaside Beach for solace and to throw a stick for his dog. I also spoke with a man whose partner of 35 years had recently died after struggling with cancer, to whom this beach is an inspiration and a source of healing. On the same day that we collected the bags of garbage you see in the photograph, we met a woman from Calgary, Canada, who was traveling up the west coast of North America with her family. She had been disturbed by the amounts of trash she had seen in her travels, and was inspired by our efforts. She even pitched in and collected a bag of trash herself, and left with a smile on her face at having met our little group of mighty volunteers.
Coastal Land Trust is grateful to the State Coastal Conservancy for funding both (1) the acquisition of the Seaside Meadow property (an adjacent wetland area east of Highway One) and (2) our current efforts, which include planning, permitting, invasives removal, restoration, operation and maintenance over a 1-2 year period.
Let's hope our efforts will catch on, and soon there will be a majority of people who pick up, rather than leave behind, and give back more than we receive from our special and fragile coast.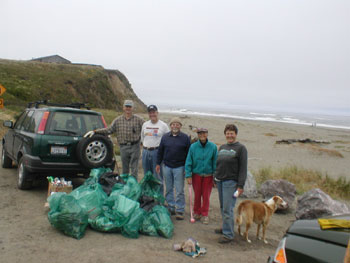 Seaside Stewards workday showing our hearty volunteer crew with the trash we collected from near the highway after the 4th of July weekend.
---
June from Lawndale:
My idea for conserving water is to catch the first gallon or two of water while waiting for the warm water to come from the tap in the shower or tub. I use the water to water my plants inside and out. Also, the washing machine can always use a few gallons of water for the next wash.
---
Ted from Eureka
(excerpted):
Liscom slough is a tributary of Humboldt Bay. The coastal trail crosses Liscom slough on Jackson Ranch Road. At fifty years of age, I was in search of a comfortable bike ride that would allow me to get daily exercise and provide me with a feeling of getting away from the stresses of daily life. Little did I know what I would see when I looked off the bridge on Jackson Ranch Road and into Liscom slough. There below was a mass of auto parts of every description, bags of animal parts too numerous to mention, pay phones and newspaper vending machines, along with a variety of everything from ammunition to costume jewelry. Three vehicles that had been driven into the slough were also evident. The slough over time had become toxic from the incredible diversity of discarded objects. It was not uncommon to find ten auto batteries at a time dumped in the slough. Once, when driving by, I noticed a cooler of methamphetamine chemicals floating next to shore. It was very common to find fifty gallon garbage cans of marijuana shake going in and out with the tide. Other times it would be tires on rims or computer monitors floating just at water surface level. All of these items, if not retrieved, would enter the bay with the outgoing tide. Some unusual things that I found: a bowling ball and pins, a parachute, a semi truck bumper, sex toys, and an envelope with $1000 cash.
Liscom slough is drainage for agricultural lands...It eventually terminates in the Mad River slough near the Sierra Pacific mill. The upper reaches are home to many amphibians and migratory waterfowl that rely on this ecosystem for food and shelter. When the slough becomes an estuary, it becomes a nursery for many aquatic organisms. I have observed as many as 1500 juvenile crabs pass under the bridge in one hour at low tide during the summer months. Juvenile smelt, herring, and anchovies can be seen in large numbers swimming through the eel grass under the bridge. Also, if one looks closely, they will see sponges of several varieties and oysters. The bat rays that live in the bay swim up the slough with the tide to eat mollusks and crustaceans.
I'm getting a little ahead of my story. I decided to slowly remove whatever garbage and junk I could from the slough over a period of almost ten years. First the cars were sledge hammered apart and hauled off in my small Toyota pickup. Todd Van Herpe, owner of the Humboldt Bay Oyster Company, put on his waders and helped clean the channel of debris. If only more individuals that benefit from the natural resources that Humboldt Bay provides were responsible stewards the way Todd is, then the bay would be far better off...Slowly a coalition of concerned agencies under the guidance of the Humboldt Baykeeper...took action. Three no dumping signs were installed, notifying the public of their increased responsibility to do the right thing and not the easy thing. Human nature being what it is, the occasional relapse will occur but improvement has been made for the slough. Eel grass beds have returned, and a greater variety of bird life has been observed.
If you're looking for a wonderful place to kayak, bird watch, paint, bike, run, or walk, Liscom slough will not disappoint. It is a beautiful place that is worthy of a better fate.
---
Marsha from La Jolla:
A class of 64 high school students in San Diego researched, wrote, photographed, and designed a book: San Diego Bay: A Story of Exploitation and Restoration. In the process, they learned a lot about stewardship of our coastal resources. While there were 64 students who contributed to the book, two of them served as editors-in-chief and did the yeoman's share of the work: Natalie...and Gwen... For more details, please see an article by The San Diego Log newspaper about the new book.
Also, the teacher behind this "hands-on" learning project, Dr. Jay Vavra, was recently awarded Amgen's Teaching Excellence award. There is a 3-minute video produced by Amgen. See the 4th item under "NEWS" – Amgen Video Profile: Dr. Vavra.
---
Ray from Lake Arrowhead:
A Lobbyist for Nature (exerpted)
Fifty-three years ago, my biology professor at Fullerton Junior College told me I ought to start getting interested in birds if I were going into game management work so he sent me to Back Bay Newport. As one result, I took a few Kodachrome slides which are now among the oldest colored illustrations we have of the bay. In 1969, I took a class at UCI dealing with Orange County environmental problems. Groups of three students were asked to select a problem in the county on which to report. My group chose Back Bay and was told by the professor that it was "a lost cause" so we should choose another issue, but we all argued to be allowed to do it anyway and he relented. Thus, I went on my first Back Bay Tour and saw the few fishes being shown at the fish exhibit and I thought, "I have more bay fishes than that." So I talked to the volunteers at the top of the hill and asked if I could become involved. I was invited to a Board meeting of Friends of Newport Bay and arrived with some ideas the Board liked. I was elected to the Board in 1970 and spent a total of thirteen years as a Board member and was President for three years beginning in 1973.
With the future of Back Bay being set by Appellate Court decision in early 1973, the various public agencies we had fought suddenly asked, "Okay, you've won, what do you want?" After so many years of saying what we didn't want, it was a challenge to turn that around. About a dozen of us led by Frank and Frances Robinson put in many hours during the summer of 1973, preparing a plan for a "park preserve." Frank indicated early that he could not present the plan to the powers that be. Since I was an "unknown" to the politicos (I hadn't made any enemies yet) and was the new President of the Friends, Frank asked me to present our detailed plan for the bay. To be openly given Frank's unequivocal trust, and by someone for whom I have deep respect, means more to me than words can ever say.
The unveiling of our plan took place in Santa Ana at a public meeting of the Recreation Subcommittee of the U.S. Department of the Interior Upper Newport Bay Field Committee. Our persistence had caused the federal government to consider the bay as a possible wildlife preserve...I talked for an hour and a half during which I used numerous illustrations of the plan that had taken a summer to develop. The presentation was so successful, I was asked to do it again for the full Department of the Interior Field Committee in San Francisco, did so, and then was invited to become a permanent member of the committee. Finally, the Friends were getting recognized! Some twenty-five years later, I commented to U.S. Representative Christopher Cox, at a Shellmaker Island celebration of getting dredging moneys for the bay, that most of our our plan has now been implemented... (T)he politics of Back Bay were never to go back. No matter who was in office, the public had been convinced and the bay was to remain protected from development...
The Upper Newport Bay Ecological Reserve is now over thirty years old. What we are presently engaged in is long-term planning to protect nature in a special place. We need to remember that long-term to elected officials is the length of the term of office. In my mind and heart, long-term is defined as -- forever.
---
Doug from Agoura Hills:
As an avid Scuba Diver, I'm always on the lookout for anything that can harm my underwater friends.
During a dive at Point Dume, Malibu, my dive buddy and I discovered an abandoned Lobster trap that had broken loose from its floating buoy so it could not be retrieved by the commercial fisherman that had placed it there. Inside the trap were at least one dozen Spiny Lobsters that had been trapped for who knows how long. Unable to forage for food, these Lobsters were doomed to a slow death by starvation, but to our relief, they were still alive. We pried the door of the trap open and released the Lobsters, who immediately swam into the nearby kelp forest where I'm sure they had quite a feast.
Every Lobster season hundreds of Commercial Lobster traps can be found up and down the Malibu coastline where I do most of my Scuba diving. They can be identified by their colorful retrieval buoys floating on the surface. Unfortunately, winter storms cause many of the traps to break away from the floating buoys, which turns them into lobster death traps. Every year my dive buddies and I find several of these abandoned traps and disable them by removing the doors, so that Lobster and other marine life can no longer be trapped only to suffer a slow and certain death.
This is just one of the many things we as divers can do to ensure that the incredibly diverse marine environment that we enjoy can be preserved for future generations.
---
Marni from Los Angeles:
Beach Cleanup
On April 27, 2007 my class and some of the other six grade class went to Zuma beach to pick up all the trash. The other half of the six grade classes went to the Los Angles River and cleaned it all up too.
When we got off the long bus ride because there was traffic and when we were trying to go under a tunnel we couldn't because the bus was too tall and would of hit the top of the tunnel so we had to find a way to back up and it took us a long time. At Zuma beach we all got into groups of four people. When everyone was all done choosing the people that they wanted to pick up trash with, the groups each got a bag for recycling, a bag for any other kind of trash, and a list with different kinds of items you may find while picking up trash. Every time you found one of the items on the list you would mark a tally on the card and at the end we would tally them all up.
When it was lunch time we went on the beach everyone spread out their towels and sat with their friends and ate their lunches. When we were done with our lunches we had to make sure that we picked up all our trash and then we had about 15 minutes till it was time to get back on the buses and go back to school.
---
Susan from Berkeley:
Sisyphus meets pepperweed
This stewardship story has little drama and no ending – at least not yet. And the story is both short and long. Here it is: For eight years, Friends of Five Creeks, an all-volunteer watershed restoration group, has kept perennial pepperweed from expanding on the waterfront in Berkeley, Albany, and south Richmond, on the east side of San Francisco Bay.
Perennial pepperweed (Lepidium latifolium, also called tall whitetop) is an invasive pest plant throughout much of California. In the Bay-Delta Area it threatens especially salt marshes and tide flats. Pepperweed forms masses up to six feet high, where its dense mass of rhizomes let nothing else grow. This root mass also helps the plants expand out onto tideflats needed by wintering and migrant shorebirds. Pepperweed can spread rapidly and widely, due to the potent combination of this fast-spreading root mat, millions of seeds tiny seeds, and the fact that even a tiny piece of root can float in salt water for months and then drift ashore to start a new colony.
In 2000, Friends of Five Creeks realized that pepperweed was flourishing near the mouth of Berkeley's Strawberry Creek. We soon found other infestations – to the north and south in what is now Eastshore State Park, in Berkeley's Aquatic Park, in Albany on lower Cerrito Creek, and here and there along the shoreline north of Pt. Isabel in Richmond. We've cut and dug pepperweed every spring and summer since. Hundreds of hours have been spent by volunteers including by students of all ages; helpers from other groups including the California Native Plant Society, Save the Bay, and Friends of Strawberry Creek; and Friends of Five Creeks stalwart Weekday Weed Warriors, who meet weekly at various restoration sites and share coffee and chat after working.
Agencies have helped, too. The City of Berkeley contains upland spread by mowing. The East Bay Regional Park District has worked on outliers in years when we ran out of time. The University of California Berkeley and Aquatic Outreach Institute are containing pepperweed at UC's Richmond Field Station, just north of "our" areas.
Since this project started in 2000, Friends of Five Creeks volunteers have eliminated broom forests, blackberry jungles, cape-ivy carpets, fennel thickets, and more at a half dozen other restoration sites, leaving us with only light maintenance. But the best we can say of the pepperweed is that most patches seem to have shrunk. Work on the breezy waterfront is lovely, with shorebirds, terns, and egrets as company. But doing the same task over and over, year after year, is no fun!
Real elimination will take removing shoreline rip-rap, digging down a couple of feet in large areas, or herbicide application by licensed professionals – work our volunteers can't do. The shoreline became part of Eastshore State Park in 2002, and someday, we hope, agencies with the needed resources and authority will assume effective stewardship over the new park's hodgepodge of weeds flourishing on former garbage landfill. In the meantime, our holding action continues.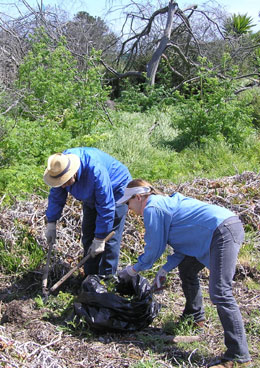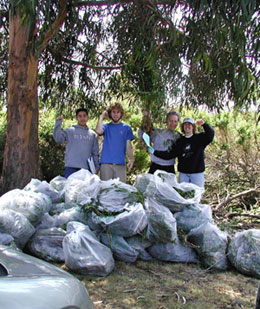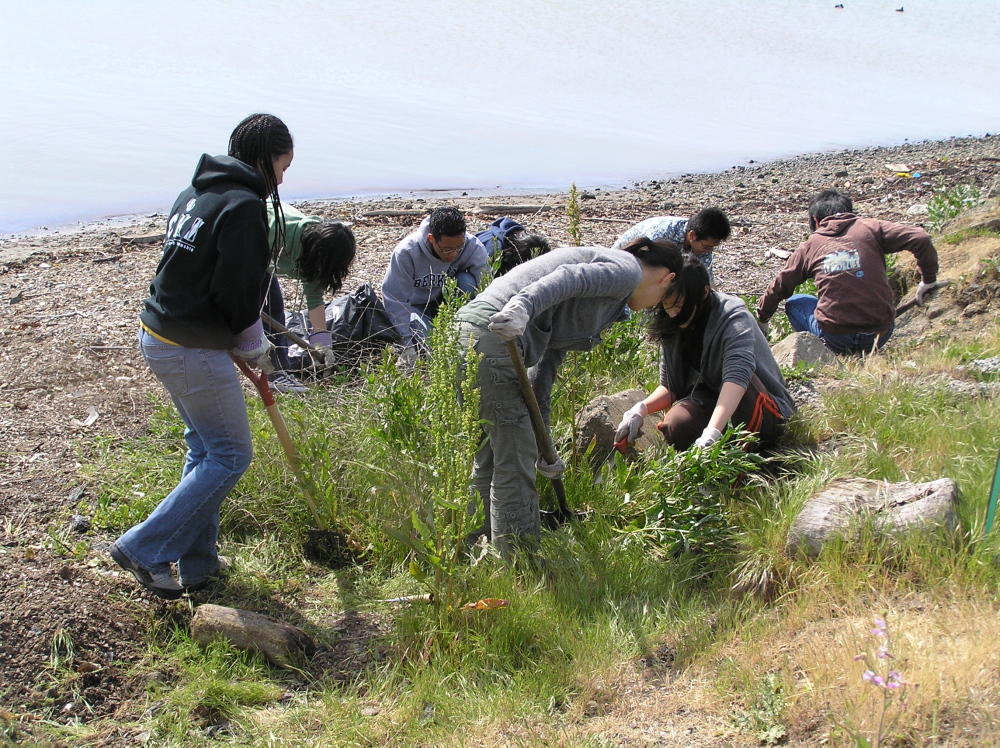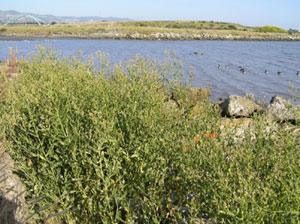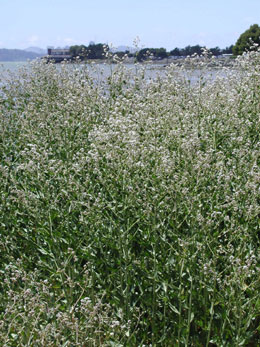 ---
Richard from Oakland:
A true story from Lake Merritt, the nation's oldest wildlife refuge
It was a little mallard; no more than a few days old. I had seen it swimming around earlier, nibbling at algae and keeping up with the drake and hen. But now it was stuck. Somehow the tip of its tiny webbed foot was caught against the shoreline. Mom and dad were there trying to help, and the little guy was yanking and yanking on the foot, but it would not come loose. Was it tangled in fishing line?
Closer inspection revealed that it was caught inside a live mussel attached to the rock wall. Apparently this tiny duckling (no larger than a handful of down) had paddled up against the open mussel, which had instinctively snapped shut, trapping the tip of its toenail.
What to do? What to do? Would the adult duck attack if I tried to help? If it remained caught, would its struggles attract a predatory gull or cormorant intent on lunch? Bending over and laying on the ground, I reached down and began to work the mussle loose. Mom stayed back and the little one struggled even more furiously. I soon had the mussel loose, but could not pick it up with the duckling attached. Prying it open did not work either, so I gently began pulling on the tiny webbed foot. A little tug; a little more, and it was free. Away swam the ball of feathers, shaking its head. It moved in a straight line, and did not seem to be in pain so I think it was OK. Plopping the mussel back in the water, I wondered what was going through its tiny duckling brain. A big part of me says that people are not supposed to interfere with wild animals; that nature should be allowed to take its course. But this time, the other side won out, and a duckling lived to swim another day.
---
Dan from Stockton:
My coastal stewardship story begins with a group of inner city, Alternative High School students from Stockton, CA.
The one. Alternative Program is part of the county operated schools and programs of the San Joaquin County Office of Education. This program is for students that for one reason or another have been unsuccessful at their traditional schools. The motto of our program, which we call the "concept of one.", is:
"one." stands for our desire to remind students that each individual is important and can make a difference in the world; we also want to make the point that it is when individuals join together, and work as "one." that miracles can occur.
As the activities director for the one. Program, I plan one activity a month that will take these students out of their urban environment and expose them to other parts of California that they do not normally have an opportunity to see. Most of the activities are physically challenging so the students will feel a sense of accomplishment when they complete the task.
One of the activities is an overnight camping trip, called the Honor Quest, for students who have been in our program a year or more. In 2006, I planned the Honor Quest to coincide with the coastal clean-up week. A group of teachers and staff took fifty students to Half Moon Bay for a daylong hike and competition along the beach, to see which group could collect the most garbage and debris. The four-mile trek started at Redondo Beach at the southern end of Half Moon Bay and ended at El Granada Beach to the north.
Each group was equipped with a supply of garbage bags. The winning group of the competition would be determined by the total weight of the trash collected. The difficulty arose when the students realized that they would have to walk in sand most of the way carrying their collection of trash so it could be weighed.
At the end of the day, the groups were exhausted, but the students had a feeling of great satisfaction about their effort to make this part of California beautiful. We collected over 300 pounds of garbage. The collection included tires, parts of fishing nets, and nylon rope.
Around the campfire that night in the redwoods, we talked about our accomplishment and the realization that each of us as individuals could effect the environment, but all of us working together could really make a difference.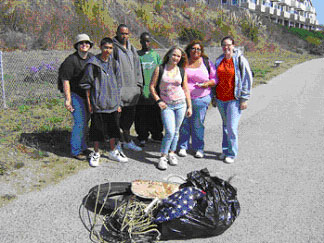 The winning group from one. Achievement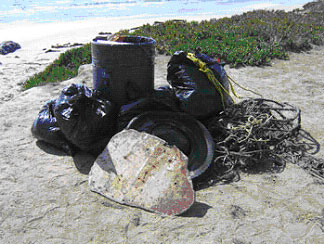 All of our efforts
---
Jake from Cupertino wrote the following article for his congregation's newsletter as a part of a Bar Mitzvah service project:
My Beach Clean-up Experience and Why You Should Help, too!
For my Bar-Mitzvah service project, I decided to clean up dirty beaches with a group of volunteers from our congregation in Palo Alto, California, to help make the world a cleaner place. Our congregation picked Francis Beach at Half Moon Bay State Beach, and we arrived on a beautiful sunny Sunday afternoon. Everyone in our group got into picking up refuse on the beach, and we all ended up picking up at least one full bag of trash each. One person in our group picked up two.
The results were great. We turned the place from pig-sty to paradise beach. Yet one thing that interested me was the different types of trash that had been found. We found bottles, cans, planks of wood with nails in it, styrophome, a holiday light, and many other bizarre items. Although these things may seem like common household items, you need to think about how they managed to land on or near the beach. For example, how do you think that a holiday light could simply be thrown out of a car window and make its way all the way to the beach? These thoughts can definitely open your eyes to the fact that litter doesn't just wander by itself out of cars or houses. People had to have helped get them there.
The reasons that I chose to do this kind of activity for my Bar-Mitzvah service project is because of my love of nature. Cleaning beaches and waterways help nature in many ways, and it especially helps to save marine and animal life. Some of the marine life that I am trying to help by reducing litter and pollution are sea turtles, sea birds, and sea lions, and birds and mammals on the land need protection, too. Although some of these animals do not need our help yet, they all will soon need assistance if pollution isn't stopped. And this affects people too. After contaminating our own water supply, this inland pollution eventually reaches the ocean where, at least this time, we are able to retrieve a little bit of it.
Also, I have cleaned beaches and riverbanks up because it just plain makes me feel good. When I see a dirty beach, I don't mourn, but I think of what I can do to help and I hope that it will be the same as it was before some "less enlightened" people messed it up. And when I clean up a messy beach and look back down to it, I feel an overwhelming sense of accomplishment when I see how much good I have done the world.
I now would like to invite everyone reading this article to pick some litter up, and even if you only pick up a small piece of trash, you are still making a difference for the world.
---
Debbie (and Kelsey) from Lodi:
When we were in Monterey...we had gone to the Aquarium the day before we cleaned the beach and learned a lot. We stayed for the penquin feeding and learned even more about the damage garbage does to sea life. Kelsey and I had stayed at the Monterey Bay Inn and we were heading to the [California Coastal Commission] meeting that afternoon regarding our permit so we went to the beach to play and ended up cleaning the whole beach up! She did a really great job and it was fun too! Kelsey actually wanted to bring the garbage to the meeting to give to you guys to show you what she had gathered because she was so excited...