NOTICE
The Coastal Commission's monthly meeting agenda is now available only via the internet.
If you wish to receive electronic notification of the publication of the Commission meeting agenda, please
For all other communications, including interest regarding a specific project and a notification request concerning such an item, please contact the appropriate district office to request to be on the mailing list.
NOTE: Please make sure that you set your e-mail anti-spam settings specifically to allow receipt of email from the coastal.ca.gov domain.



See our Public Records Act Guidelines.
---
Buy the new
WHALE TAIL® license plate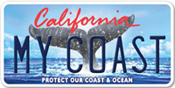 to support
our coast and ocean.
During the summer of 2012 staff from the California Department of Finance conducted a review of all the specialty license plates in the state. The purpose of the review was to determine whether fees collected from license plate sales are being spent in ways that comply with their authorized uses and limitations. We are pleased to report that the Department of Finance concluded that both the Coastal Commission and the Coastal Conservancy are using revenues from the Whale Tail License Plate fully in accordance with the purposes outlined in the California Vehicle Code.
* * *
---
Most of the documents on our site are available in PDF (portable document format). To read and/or print these, you need Adobe Reader plug-in for your browser. To get it, click here, then follow the installation instructions.
The Coastal Commission cannot receive comments on any official business by electronic mail unless specifically indicated. Any information relating to official business should be sent to the appropriate Commission office using U.S. Mail or courier service.
---

Did you know that beach wheelchairs are offered for use at various locations?
Check on where you can borrow one.
---
---
Press Release: Ackerberg Settlement to Open Carbon Beach Public Accessway (March 15, 2013)
The California Coastal Commission reached a settlement with Lisette Ackerberg to open up a public accessway to Carbon Beach, resolving a long-standing violation, including removing unpermitted development, opening up the accessway, and payment of over $1.1 million in mitigation, penalties and attorneys fees.
For more information, see Commission Cease and Desist Order Amendment No. CCC-09-CD-01-A (Ackerberg – Malibu, Los Angeles Co.)

California Supreme Court endorses strong Coastal Act definition of development, requiring permits for mobilehome park conversions.

Commission Approves Major Redevelopment of Chula Vista Bayfront
With broad support from the community, the Coastal Commission unanimously approved the Chula Vista Bayfront Master Plan at its August 2012 meeting. See more about this and other recent Commission accomplishments.
---
---

Check out our new Coastal Art & Poetry Contest winners!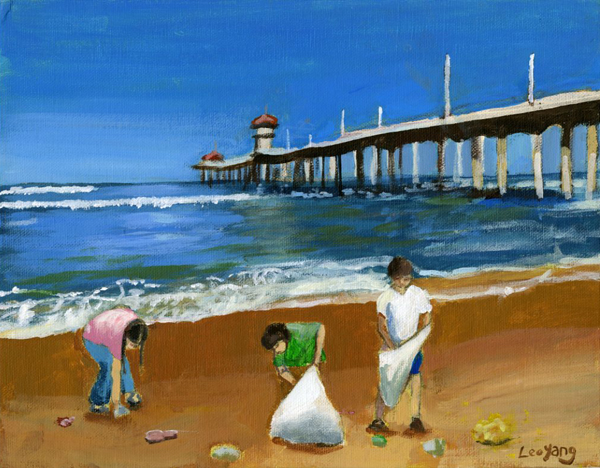 "Californians Cleaning the Coast" by Leo Yang, 9th grade, Arcadia, honorable mention in the 2013 contest
---
Coastal Program Policy Briefings and Presentations
to the Commission
See briefings such as the Federal Consistency Program Briefing from February 9, as well as previous ones on open meetings, vertical accessways, wetlands, and the Coastal Act.
---
Did you know that the California Coastal Commission is now offering a 40% discount
on permit application fees for green building projects?
Learn the details!


---
The latest volume in our series of coastal guides is now available!

This volume, Beaches and Parks from San Francisco to Monterey, includes
Marin, San Francisco, San Mateo, Santa Cruz, Monterey Counties.

Here is the cover of this latest volume:




Take a peek at the introduction
and then find out more!
---
You are visitor number
since October 1995.