Upper Newport Bay Project
Community-Based Restoration and Education Program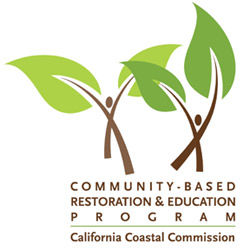 When the environmental movement began in earnest during the early part of the 20th century, most habitat conservation efforts typically focused on setting aside lands as parks or reserves, and restricting uses in those areas. More recently, it has become clear that protection of isolated lands is insufficient; we must also heal and restore areas that have been damaged by human use and misuse. Only three percent of southern California's coastal estuaries remain intact today. These hot spots of productivity and diversity have been reduced at an alarming rate in recent years, bulldozed into concrete channels, apartment complexes, and airport runways.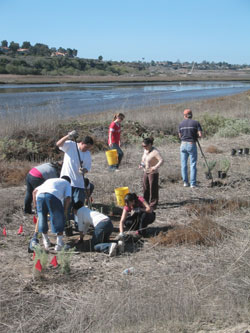 Volunteers install native plants in the coastal sage scrub community.
The California Coastal Commission's Upper Newport Bay (UNB) Community-Based Restoration and Education Program (CBREP) is working to enlist community support for habitat restoration by engaging the public in hands-on restoration work and teaching them why this work is important. The Program grew out of the Coastal Commission's successful public involvement efforts. Our programs use a tried and true formula: collaborate with local organizations working in ecology, education, and conservation, and provide the leadership, planning, and funding to help connect volunteers and neighborhood groups with the affected ecosystem. The UNB program will serve as a model for developing coastal restoration education programs throughout California.
The Commission hired H.T. Harvey Ecological Consultants to provide restoration plans for UNB that are appropriate for volunteers to conduct, involving invasive plant eradication, planting, seed collection, propagation, and monitoring strategies. Volunteers participate in ROOTS—restoration events on the fourth Saturday of each month, and in Steward Days every Wednesday at the on-site native plant nursery. Volunteer successes include eradication of a ½ acre stand of Arundo, and thatching the canes together to build a native plant shade house. We call it the "Exotic Hut," as its support posts are Brazilian pepper tree trunks. Volunteers have pulled a total of 96,000 pounds of non-native invasive plants since 2002, much of which was hauled to a green waste recycling facility while additional material was left on-site to decompose as mulch. We've planted more than 6,700 natives at various restoration sites. Approximately half of those plants were grown from seed or cuttings at CBREP's native plant nursery. Volunteers were also instrumental in building and expanding the nursery. To date, CBREP has restored 11.8 acres of UNB habitat. Plant survivorship is high, averaging 70% to date. More recently planted plots have had survivorship of 80-90%, indicating that CBREP's skill has improved over time.
| | |
| --- | --- |
| | |
| | Volunteers relax on a pile of invasive ice plant after they pulled it from the upper marsh. |
Our Wetlands, Our World
, the California Coastal Commission's own high school level curriculum was developed by a team led by Kay Ice of Education Development Specialists. It is structured to help local teachers meet required State Science Content Standards with activities that connect education with real life. The curriculum focuses on the history and ecology of UNB; the effects of urbanization and non-point source pollution, non-native invasions and loss of biodiversity; and the importance of community-based restoration and stewardship.
The UNB Community-Based Restoration and Education Program is a team effort with the California Department of Fish and Wildlife; Orange County Harbors, Beaches, and Parks; and the Newport Bay Naturalists and Friends. These partners help support the Program with resources such as equipment and advice, and collaborate in our ongoing restoration and education work. CBREP adds to the already impressive line-up of educational and volunteer activities in Upper Newport Bay by providing a labor force and homegrown natives to revegetate coastal sage scrub, riparian and salt marsh communities. In addition, the new curriculum supplements existing school tours, effectively bringing the Bay into the classrooms and hearts of future stakeholders.
The little victories of restoration—the mounds of non-natives removed, the fields of newly planted sage scrub, the continued survival of replanted vegetation— are what motivate our volunteers. We are a group of ordinary people—professionals, homemakers, students, and retirees—joined by a common concern for our environment. Participating in restoration work in Upper Newport Bay provides volunteers with the opportunity for respite and renewal, away from the stresses of southern California's highly urbanized environment. The work has a way of turning itself inward. We restore ourselves, our sense of purpose, by restoring the place around us.
For more information on the Upper Newport Bay Project, see the links on the left or contact Matt Yurko at myurko@coastal.ca.gov.


Our community-based restoration program is part of the Marine Education Project, a project of the Tides Center conducted in partnership with the Coastal Commission.