Permanent Responsibilities of the California Coastal Commission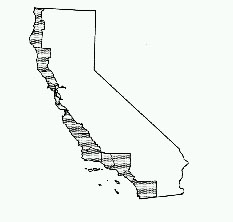 Proposition 20 (Coastal Initiative, 1972), the California Coastal Plan (1975), and the California Coastal Act (1976) all envisioned a permanent, state coastal management agency. After local coastal programs (LCPs) have been fully certified and local governments have assumed coastal permit issuing responsibilities, a variety of tasks must be carried out by the Commission on an ongoing basis. The following list includes the major, continuing functions mandated by law and assigned to the Coastal Commission.
PERMANENT FUNCTIONS:
LCP, Port Master Plan, University Long-Range Development Plan, and Public Works Plan Amendments:
All amendments to any of these plans must be reviewed and approved by the Commission before they can take effect (Public Resources Code 30514, 30605, and 30716, hereinafter "PRC").
Public Works Plans and University Long-Range Development Plans:
All of these plans, even after certification of an LCP, must be reviewed and approved by the Commission before they can take effect (PRC 30605 and 30606).
Permit Appeals:
Certain local government and port district coastal permit actions may be appealed to and must be acted on by the Commission (PRC 30519(a) and (b), 30603, and 30715).
Coastal Permits/Permit Reviews:
All new development proposed on tide and submerged lands, and other public trust lands must receive a permit from the Commission (PRC 30519(b), and 30416(d)). In addition, new development under public works plans and university long range development plans are reviewed by the Commission (PRC 30606).
Federal Activities:
Activities authorized, funded or carried out by the Federal Government that affect coastal zone resources must be reviewed by the Commission for consistency with the federally approved California Coastal Management Program, including the Coastal Act (PRC 30330, and 30400). As approved by the Federal Government in 1977, and with relatively minor exceptions, the Commission is the only State agency which can conduct this review of federal projects and activities.
Offshore Energy Projects:
All offshore oil and gas exploration, including any development on the federal outer continental shelf, must be reviewed by the Commission. Projects in federal waters are reviewed for consistency with California's federally-approved Coastal Management Program (e.g. the California Coastal Act). A 1984 amendment to the Coastal Act requires the Commission to work with the Governor and other agencies relative to offshore oil transportation and refining issues (PRC 30265 and 30265.5). Marine terminals, refineries, oil and gas pipelines, and other energy development in the coastal zone must be regulated by the Commission (PRC 30260–30263).
Oil Spill Program:
Under the California Oil Spill Prevention and Response Act the Commission was given additional duties, to assist in the implementation of a statewide oil spill prevention and response program for providing the best achievable protection for the state's coastal and marine resources (in coordination with other federal and state agencies). These duties include, but are not limited to: participate in special statewide studies and taskforces investigation programs and other mechanisms for improving oil spill prevention and response in the state; participate in the development of statewide emergency oil spill response protocol; clarify Commission's role, responsibilities, and permit process in the clean-up of oil spills; review and comment on oil spill related regulations; review facility and vessel oil spill contingency plans; consult on the design, planning, and operation of wildlife rehabilitation facilities; participate in Harbor Safety Committees to improve vessel safety within each of the state's major ports/harbors; and participate in the Area Contingency Planning process to improve regional preparedness for oil spill response.
Public Access:
The implementation of a public coastal access program for the length of California's coastline, including maintaining and updating an access inventory, keeping records of easements and dedications, and expediting the opening of new accessways for public use are continuing responsibilities of the Commission (PRC 30530–30534).
Access Guide:
The Commission has published and must periodically revise the popular Coastal Access Guide (Ch. 868, Stats, 1979).
Enforcement:
The Commission must continue to enforce its permits and other provisions of the Coastal Act (PRC 30800-30824).
Energy Projects and Public Works:
Upon request or on its own motion, the Commission may amend a certified LCP to accommodate energy and public works projects if the local government refuses to do so (PRC 30515).
LCP Reviews:
At least every five years, each LCP must be reviewed by the Commission to determine whether the program is being effectively implemented in conformity with the Coastal Act (PRC 30519.5).
Power Plant Siting:
Every two years, the Commission must update previously adopted maps of areas not suitable for new coastal electric power plants and must participate in Energy Commission decisions relative to other coastal power plant sites (PRC 30413(c) and (d)).
Guide to Coastal Resources:
The Commission has published and must periodically revise the Coastal Resource Guide for public use (PRC 30344).
Public Participation:
The Commission must make recommendations to state and local agencies to ensure effective public participation in their coastal resources management decisions (PRC 30006 and 30339).
Wastewater Treatment Works:
The Commission must review coastal wastewater treatment works (PRC 30412(c)).
Restoration of Wetlands:
The Commission must work on and promote wetland restoration (PRC 30231, 30233, and 30411(b) and 30607.1).
Local Government Costs:
The Commission must review all local government mandated cost claims resulting from Coastal Act duties and must make grants to local governments, subject to appropriation (PRC 30350–30555 and 30340.5).
Federal Pass Through Grants:
The Commission is designated, under the federally approved California Coastal Management Program, as the state agency to receive and pass through federal grants to the San Francisco Bay Conservation and Development Commission and State Coastal Conservancy.