Why Restore Upper Newport Bay Project?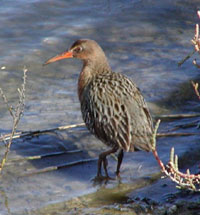 Light-footed clapper rail
Southern California's coastal wetlands are of vital ecological, hydrological, and economic significance to the region and have been nominated as "Wetlands of International Importance" in accordance with the Ramsar Convention. Despite their recognized importance, it is estimated that 97 percent of coastal wetlands in Southern California have been lost.
1
That is why the California Coastal Commission has chosen the region's largest wetland, Upper Newport Bay, to pilot a Community-Based Restoration and Education Program.
Internationally significant and renowned as the best birding site in North America, Upper Newport Bay (UNB) holds critical nesting, feeding and breeding grounds for the magnificent array of birds on the Pacific Flyway and for numerous California resident species. Many of these species are endangered and healthy wetland areas represent their last and best chance for survival. About 43 percent of our country's endangered species depend on wetlands.2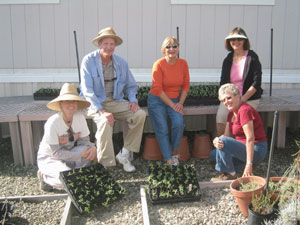 Volunteers display newly transplanted seedlings in the native plant nursery.
Approximately 70 percent of the nation's remaining light-footed clapper rail population is found in UNB; in fact, UNB is thought to be the only place in the world where this bird is successfully reproducing. The endangered least tern's nesting areas, now heavily impacted by trespassers, have not been fruitful in UNB since 1998. The Belding's savannah sparrow, also endangered, nests in pickleweed habitat that is easily accessed by hikers and dogs off-leash. Since no system of public access or signage exists to control access, visitors often make unauthorized trails and damage sensitive salt marsh habitat. Through the help of community volunteers, we can install information buoys and signage at sensitive sites and restore buffer lands to protect breeding habitats.
UNB's waters are listed as impaired by both Federal and State standards. Unfiltered storm drains containing toxic runoff from 154 square miles of developed areas dump urban waste directly into the Bay. Pesticides and heavy metals, such as selenium, have recently been found at levels toxic to aquatic life. Regular high bacteria counts are a serious concern; swimming in the Bay has been prohibited since 1974. Fertilizers from golf courses and landscaping cause algal blooms, crowding out native plants and starving the Bay of oxygen for hundreds of fish and bird species. Getting citizens involved in water quality monitoring and clean-up days will alert them to the dangers of washing their cars in the street, dumping trash in the storm drain, and other needless habits.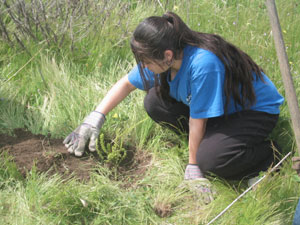 A young volunteer plants native California buckwheat in the
Newport Valley restoration site.
Introduced plants are able to out-compete natives because the animals and diseases that kept them in check in their home ranges are missing. By displacing native plants, the animals that depend upon them lack the food and shelter needed for survival. Exotics represent 47 percent of UNB flora.
3
CBREP engages the public in weed eradication as well as native plant seed collection, propagation, and, to complete the cycle, outplanting in the winter.
The protected lands of UNB comprise approximately 1,000 acres. Numerous federal, state and local agencies manage the Bay's resources. But prior to 2002, almost no restoration of damaged areas had occurred, and the results of decades of intensive urban growth have seriously degraded the Bay's already sensitive habitats.4 Without immediate attention, serious problems like trespassing, water contamination, and invasive non-natives threaten the vitality of UNB's sensitive habitats and public health.
Amid UNB's wetland world of pickleweed, cattails, mudflats and tidal sloughs, wildlife seek refuge and Californians take solace in nature. UNB provides important open space for a public in need of places to bike, jog and kayak or simply walk and observe nature's beauty. We, the public, are the stewards of our natural environment. Tomorrow's generations can only trust that we will continue to learn about and appreciate this jewel in our midst, the Upper Newport Bay, so they might enjoy it as we have.
For more information on the Upper Newport Bay Project, contact Matt Yurko at myurko@coastal.ca.gov.
---
1
Bowler, P.A. University of California, Irvine. http://eee.uci.edu/02f/05500/. Various pages on restoration ecology contained therein. Personal communication, September 30, 2002.
2
USGS. 1996. National Water Summary on Wetland Resources. Water-Supply Paper 2425. United States Government Printing Office.
3
Muns, Bob. 1991. A Checklist of Upper Newport Bay Flora.
4
Feldman, Esther. April 2002. Restore Upper Newport Bay. Community Conservancy International.