Left Column Top
Left Column Bottom
Coastal Event Calendars

Whether you are interested in volunteering, learning about our ocean or just enjoying the coast, there are lots of opportunities for you. We have compiled a wide array of web-based calendars that announce coastal activities and environmental events. Check out the calendars for your area!
COASTWEEKS is a three week celebration of our coastal resources that begins on Coastal Cleanup Day each year. Check in late summer for a calendar of statewide COASTWEEKS events.
View a calendar of California Coastal Commission Public Education events.

This page is always growing. If you know of coastal event calendars on the web, please email the link to coast4u@coastal.ca.gov. With your help, we can cover all of the coast!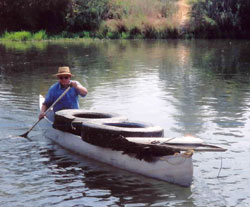 ---
Friends of the Dunes
- Find coastal activities in Humboldt County at this Friends of the Dunes webpage.
Mendocino Land Trust
- A list of Mendocino volunteer events, particularly around the Big River Estuary.
Salmon River Restoration Council
- Events relating to the Salmon River and beyond.
---
Bay Model Visitor Center
- Events are scheduled at the Bay Model in Sausalito and in other Marin locations.
Bay Nature
- From
Bay Nature Magazine
, this calendar lists nature-related events in the Bay Area.
EECoM
- The Environmental Education Council of Marin maintains a calendar of upcoming environmental events taking place in Marin County.
Golden Gate National Parks Conservancy
- Find many volunteer and cultural events in Marin, San Francisco, and San Mateo Counties.
Trails for Richmond Action Committee
- A calendar of events for the Richmond Bay Trail.
Pacifica Beach Coalition
- Check out this site for a calendar of environmental activities in the Pacifica area, including many beach cleanups and restoration events.
San Francisco Surfrider
- Beach cleanups and other events taking place in San Francisco.
Save the Bay
- This web site lists activities in the Bay Area, organized geographically.
Stewards of the Coast & Redwoods
- Find activities taking place along the Sonoma Coast.
Trail Center Outdoor Activity Guide
- Find volunteer opportunities for trail building and maintenance on this calendar page.
---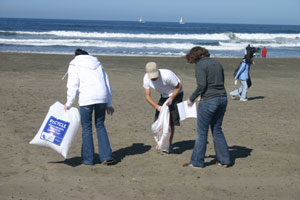 Clean Beaches Coalition - You'll find a calendar of beach cleanups in Santa Cruz County here.

Monterey Bay National Marine Sanctuary - This web page lists events in the Monterey Bay area covering a variety of marine related topics.

Santa Cruz Surfrider - This web site lists Surfrider events for members and the public.

Save Our Shores - A calendar of volunteer opportunities in the Monterey and Santa Cruz Counties.

EcoCruz - This "environmental guide to Santa Cruz County" is maintained by a collaboration of government agencies and local environmental non-profit organizations. Click on "Environmental Events" for the calendar.
---
The Dunes Center
- A calendar of free activities includes many docent-led walks.
Santa Barbara Channelkeeper
- Find events such as cleanups, festivals, and water quality monitoring in Santa Barbara County.
---
Channel Islands National Marine Santuary
- This calendar contains ocean-related events in Ventura County, as well as some events located in other parts of the state.
---
Heal the Bay
- L.A. county-wide events calendar, with occasional postings for events in Ventura and Orange counties.
Cabrillo Marine Aquarium
- Cabrillo Aquarium in San Pedro maintains a calendar with events including beach cleanups, tidepool walks, and boat trips.
Santa Monica Baykeeper
- The Santa Monica Baykeeper's event calendar includes such activities as kelp restoration and cleanups.
---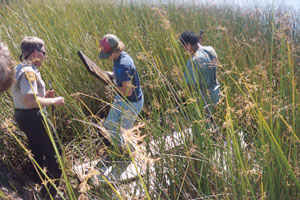 Huntington/Seal Beach Surfrider
- Find lots of beach cleanups and other events on this organization's calendar.
Newport Bay Conservancy - Announces many educational programs being held in Newport Bay.
Save Our Beach - See this page for Seal Beach beach cleanups, with a link to a calendar of cleanups going on in other locations.
Upper Newport Bay Project - Coordinated by the California Coastal Commission, this page contains a calendar of hands-on wetland restoration activities in Upper Newport Bay.
---
San Diego Environmental Activist Events
- The San Diego Chapter of the Sierra Club maintains this calendar, which provides information on a variety of environmental events and meetings.
San Diego Surfrider
- This web site includes a calendar of San Diego County Surfrider Foundation upcoming events.
---
California Environmental Education Interagency Network
- This statewide calendar contains events that may be of interest to educators who would like to integrate environmental education into their teaching.
Coastwalk
- Find information on coastal hikes and beach cleanups throughout California.
Marine Advanced Technology Education Center
- This web site lists a calendar of events, seminars and conferences on marine related topics.
---
Below are a few select calendars of inland events.
American River Conservancy - Hikes, restoration, and other activities taking place along the American River

RiverTree Volunteers - Find cleanup events in the San Joaquin River Watershed.