Climate Change Impacts on
Coastal Erosion and Loss of Sandy Beaches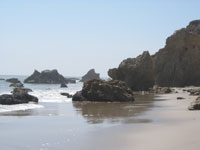 Photo © Mark Johnsson
Continued and/or accelerated sea-level rise due to ongoing climate change will lead to increased coastal erosion in the future. Simple inundation will result in the flooding of beaches; for gently sloping beaches, the general rule of thumb is that 50 to 100 feet of beach width will be lost for every foot of sea level rise. Beaches and bluffs also will be exposed to greater and more frequent wave attack, due to the elevated seas as well as to a possible increase in the frequency and severity of storm waves.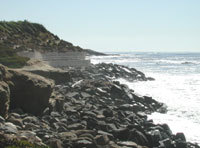 Eroded beach
Photo © Mark Johnsson
Protecting existing structures from erosion will be difficult and expensive. When the means of protecting structures involves armoring the coast, there will be an inevitable additional loss of beaches as a result. This is because shoreline protective devices halt the landward migration of the back of the beach, and continued flooding of the seaward beach results in a reduction in beach width, and its eventual loss entirely. The loss of beaches due to armoring and sea level rise results in immense negative impacts, including loss of recreational value, tourism, marine mammal haul-out area, sandy beach habitat, and buffering capacity against future bluff erosion.
Additional information on this topic can be found at the following sites: