Commissioner Biographies
Steve Blank has had over 30-year career as a successful businessman, conservationist and teacher. As a Silicon Valley entrepreneur, Steve was part of/or founded eight venture-backed companies. After he retired, he started new careers in conservation, public service, and teaching. Steve teaches and writes about Customer Development and is a consulting associate professor at Stanford. He currently lectures at the Haas School of Business, University of California Berkeley, Columbia University and the California Institute of Technology Steve currently sits on the board of Audubon California (his was the past chair), and spent several years on the Audubon National Board. He is also a board member of Peninsula Open Space land Trust (POST) and in 2009 became a trustee of U.C. Santa Cruz and the California League of Conservation Voters (CLCV).
---
Dayna Bochco
Dayna Bochco is an attorney and sits on the Board of environmental groups such as Heal the Bay and Natural Resources Defense Council's Southern California Leadership Council. Dayna is a 25-year veteran TV producer and is President of Steven Bochco Productions. Prior to joining Steven Bochco Productions. Dayna was with Twentieth Century Fox Television. She was executive vice president of creative affairs from 1985 to 1988 and executive vice president of business affairs from 1980 to 1985.
Dayna began her career in the entertainment industry as a contracts attorney for ABC's legal department. She was born and raised in San Diego and graduated from the University of California at Berkeley, where she majored in drama and English. She earned a law degree from Loyola Law School.
---
Brian Brennan
Born and raised in Ireland, Brian Brennan has been a citizen of the United States since 1966. His first term on the City of Ventura City Council began in December 1997. He was successfully reelected in November 2001and 2005 and served as Mayor from 2003 until December 2005.
Brian is a strong advocate for the environment and sustainable communities. He represents the City of Ventura on several boards and agencies, including, but not limited to the Ventura County Air Pollution Control District, the Beach Erosion Authority for the Control, Operations and Nourishment (BEACON), Chairman Elect of the Ventura County Regional Energy Alliance and serves as the Chairman of the Ventura Regional Sanitation District.
Brian's interests go beyond City appointments. He is a graduate of the Smart Growth Leadership Institute at the University of Maryland, was appointed by Governor Christie Todd Whitman to the Environmental Protection Agency's National Advisory Council on Environmental Policy and Technology for his work in Brownfield and Greyfield redevelopment and his advocacy for fuel cells and the Hydrogen highway. He is the past Vice President of the Chamber of Commerce, past Chairman of the Visitors and Convention Bureau, and past President of the Surfrider Foundation, and continues to be actively involved in all of these entities.
A professional restaurateur, Brian has opened restaurants in exotic places from the Hawaiian Islands to the Virgin Islands and ports in between. He presently heads up his own consulting firm that specializes in project design and management to the hotel and restaurant industry with an emphasis on adaptive reuse of historical structures, green building and energy efficiencies He has one daughter who resides in Annapolis, Maryland.
---
Carole Groom
Carole Groom was elected to the Board of Supervisors in June 2010 and served one year as President of the Board in 2011. Prior to Supervisor Groom's appointment in 2009, she served nine years on the San Mateo City Council, including two terms as Mayor, and on the San Mateo Planning and Public Works Commissions.
Supervisor Groom's legislative priorities include universal health coverage, increasing our County's stock of affordable housing through transit-oriented development, environmental protection, maintaining and preserving our County's parks, and growing our local economy.
Since serving on the Board of Supervisors, Supervisor Groom has been instrumental in the creation of the Community Health Reform Advisory Committee, the development of the San Mateo County Children and Youth and Family Budget. She has also spearheaded Active San Mateo County, an annual conference on creating healthy communities, and Streets Alive! Parks Alive!, an annual countywide event that promotes parks and public spaces.
Supervisor Groom currently serves on the boards of various regional planning organizations, including the Bay Area Air Quality Management District, the San Mateo County Transportation Authority and SamTrans.
---
Dr. Robert Garcia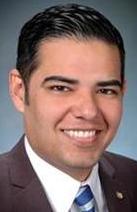 Dr. Robert Garcia was elected Vice Mayor of Long Beach in July of 2012. He was first elected to the Long Beach City Council on April 7, 2009, and re-elected to a full four-year term in April.
He holds a Doctorate in Higher Education. Dr. Garcia is on the faculty at the University of Southern California, where he teaches public policy and communications. He has also taught Communication Studies at both Cal State Long Beach and Long Beach City College. He also holds a Masters Degree in Communication Management from the University of Southern California and a Bachelor's Degree in Communication Studies from California State University, Long Beach.
---
Esther Sanchez
Esther Sanchez was elected to the Oceanside City Council on November 7, 2000, her first run for local office. She was born and raised in Oceanside, part of a four-generation Oceanside family. She attended Laurel Elementary, Jefferson Junior High and Oceanside High, graduating in 1974. She received a scholarship to Brown University, where she received her B.A. degree in Urban Studies. Esther then attended University of California, Hastings College of Law and received her Juris Doctorate, passing the California Bar on her first try. She has worked as an attorney for approximately 22 years, in both the public and private sector. Esther retired from the Public Defender's Office summer of 2008, after 20 years, and is currently starting her law office/business in Oceanside.

Esther has a lifelong commitment to public service and to law enforcement. She is a member of the Vista Community Clinic Auxiliary, Oceanside Museum of Art, Friends of the Library, and Oceanside Noon Optimist.
---
Steve Kinsey (Vice-Chair)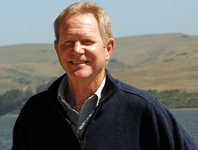 Steve has lived in West Marin since 1978, enjoying its spectacular natural beauty and alternative lifestyles while also participating in many civic activities. He has served on the Marin County Board of Supervisors since being elected in 1996, and represents most of Marin's coastal area. As an elected official, Steve has focused on watershed and fishery restoration, sustainable agriculture, and the integration of transportation and land use planning. He also champions the needs of all children, especially through his work as a Board member of First Five Marin since its founding. Given the multi-cultural nature of Supervisor Kinsey's district, he has worked closely with communities of color to reduce the barriers to equal opportunity.
In 1998, Mr. Kinsey co-founded the Fishery Network of the Central California. Coastal Counties (FishNet4C) and has served as its chair since then. In 2001, FishNet4C received the Governor's Environmental and Economic Excellence Award for its groundbreaking work in shaping regional Salmon restoration policies. Steve also serves on the Board of the Marin Agricultural Land Trust, the Metropolitan Transportation Commission, and the Transportation Authority of Marin, which he has chaired since 1998. He is especially proud of Marin's national leadership in Safe Routes to School, increasing opportunities for biking and walking, and expanding renewable energy.
Mr. Kinsey received a B.A. in architecture from Arizona State University. Prior to taking office, he owned and operated a residential design/build firm for fifteen years.
---
WendyMitchell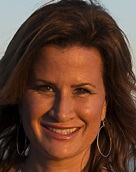 Wendy Mitchell has been the principal of WM Consulting, Inc., since 2006. She has an impressive record and 15-years experience in both the public and private sector working in budget, energy and environmental policy areas.
Ms. Mitchell serves as President of the South Valley Area Planning Commission. She is a leading member of the board of directors of: the California League of Conservation Voters, Pacoima Beautiful, Planned Parenthood Advocacy Project-LA and Los Angeles Business Council.
Ms. Mitchell, a veteran of the California State Assembly and State Senate, has served as a Senior Budget Consultant in the California State Assembly, liaison to the Latino Legislative Caucus, Legislative Consultant to the Senate Majority Caucus and the California Senate Majority Leader. In 2003, she was appointed Chief of Staff to State Senator Denise Moreno Ducheny (D-San Diego), former chair of the powerful Senate Budget Committee.
In addition to her policy work, Ms. Mitchell has been recruited eight times by Senate and Assembly leadership to manage political campaigns in highly contested districts throughout California.
Upon her move to the private sector, Ms. Mitchell became Vice President External Affairs for Cadiz Inc., a publicly traded international company specializing in water resources and land management. In 2005, Ms. Mitchell joined Australian-based Woodside Natural Gas as Vice President of Government and Public Affairs. Wendy Mitchell has a Masters Degree in Public Administration from the University of Southern California and a Bachelor of Arts Degree in Government and Journalism from California State University Sacramento.
---
---
Mary K. Shallenberger (Chair)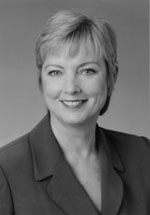 Mary Shallenberger grew up on a dairy farm in northern Ohio. She graduated from Mount Holyoke College in Massachusetts with a B.S. in Biological Sciences and headed to California.
Ms. Shallenberger worked for several years as a research assistant in the Biology Department at Stanford University and Stanford Research Institute before returning to school for an M.S. in Engineering from Stanford University. Upon graduation Ms. Shallenberger moved to Sacramento and began a long public service career in environmental and natural resource protection. She began as a Planner at the California Air Resources Board during the development of the first non-attainment plans and the creation of the Air Conservation Program. She moved to the Governor's Office of Planning and Research where she developed administration policies on natural resource issues and programs. Ms. Shallenberger began work for the California State Senate in 1987 and was the Principal Consultant to the Senate Natural Resources and Wildlife Committee and then the Senate Agriculture and Water Resources Committee. From 1994 until 2005 she was the special advisor to the Senate Pro Tem on policy and political issues related to natural resource and environment. During her tenure in the Senate she was instrumental in nearly every major environmental bill that passed the Legislature
Ms. Shallenberger has balanced her work on natural resource protection with volunteer work with non-profit organizations dedicated to reproductive health care for women, locally and around the world. She served as the Chair of the Planned Parenthood Federation of America and of her local Planned Parenthood affiliate. She is currently on the Board of Directors of the Guttmacher Institute, the Planned Parenthood of Mar Monte, and the Pacific Institute for Women's Health. Ms. Shallenberger is Senior Fellow of the American Leadership Forum.
---
Mark Vargas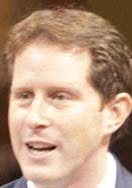 Currently president of Mission Infrastructure. Served as a special assistant to Governor Gray Davis, as liaison to the Mexican governments of Baja California and Baja California Sur, and an appointee of Mayor Antonio Villaraigosa to the Los Angeles Rent Adjustment Commission and also served on the Little Hoover Commission. Current member of multiple local boards in the community.
Mark received his B.A. from the University of Southern California, in Political Science and International Relations, and has completed graduate coursework at the University of California at San Diego in the area of Latin American Studies.
---
Jana Zimmer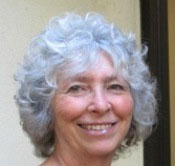 Jana Zimmer has been a California resident for almost fifty years, graduated from San Diego State, and was a doctoral candidate in French literature and linguistics at the University of California at Santa Barbara.
She received her law degree from Loyola Law School, and worked in legal services and labor and employment law in Los Angeles for several years. She returned to Santa Barbara in 1986, and was a founding Director of the Santa Barbara Womens' Political Committee and the Santa Barbara Women Lawyers the following year. She specialized in land use, housing, environmental and government law in Santa Barbara and San Luis Obispo counties until 2005.
Jana is an artist, and regularly exhibits her work. She currently serves the local arts community as a member of the Santa Barbara County Arts Commission. There are three generations of surfers and sailors in her family, all of them passionately committed to the coast.
---
Ex-Officio Commissioners (Non-Voting)


---
Commissioner Alternates
Jeff Duclos
Jeff Duclos was elected to the Hermosa Beach City Council in November 2009. He was appointed Mayor in April, 2012. Born in Los Angeles and raised in San Diego, Jeff holds a Bachelor of Science degree from San Diego State University and a Master of Fine Arts degree from UCLA. He has worked in the field of public relations for nearly 30 years and established his current Hermosa Beach home-based consulting business in 1998. In addition to his business, Jeff teaches at California State University, Northridge and at UCLA as part of an Extension division certification program in public relations.
---
Belinda Faustinos
Ms. Faustinos was appointed as the Executive Officer of the San Gabriel and Lower Los Angeles Rivers and Mountains Conservancy (Rivers and Mountains Conservancy) in June of 2002. This agency's territory encompasses 68 cities and over 1,600 square miles in the San Gabriel and Lower Los Angeles Rivers Watersheds. The primary charge of the Rivers and Mountains Conservancy is to acquire and manage public lands within the watersheds, provide open space, low impact recreational and educational uses, water conservation, watershed improvements, wildlife and habitat restoration and protection.

Over the last three years the Rivers and Mountains Conservancy has adopted a work program of over 400 projects collected from cities, regional agencies and non-profit organizations. Over 124 grants have been awarded totaling more than $40 million for the acquisition, planning and development of open space, recreational opportunities and habitat restoration. The Rivers and Mountains Conservancy has also developed three joint powers agencies to help achieve its mission. Of particular significance is the protection of three major sites on the San Gabriel River channel, El Encanto at the headwaters in Azusa, the Duck Farm just north of Whittier Narrows and the Bryant property in the Los Cerritos Wetlands in Long Beach, a total of 163 acres for less than $15 million. Additional grants will be awarded this September and October for new and continuing projects and land acquisitions.

Ms. Faustinos' environmental experience started with the Santa Monica Mountains Conservancy (SMMC) in 1985 as the Budget Officer for that agency. She was promoted to Deputy Director in December of 1991. Ms. Faustinos administered a budget of well over $200 million in capital outlay funds which were used for the acquisition and improvement of public parkland and educational interpretation programs. She also served as the Chief Deputy Executive Officer of the Mountains Recreation and Conservation Authority and the Wildlife Corridor Conservation Authority and worked on open space policy issues in the Whittier/Puente Hills Corridor.

A native of southern California, Ms. Faustinos was born and raised in East Los Angeles, California. She attended parochial schools in Los Angeles and obtained her bachelor's degree from Pitzer College in Claremont in 1973. Post graduate education has included completion of courses offered by EPA and Harvard Graduate School of Design. Over the years she has received honors and certificates of recognition from several federal, state and local legislators and has participated in many civic and professional organizations. She lives in the San Gabriel Valley with her husband and three sons.
---
Steve Kram
Steve Kram is co-founder of Content Partners, LLC. After graduating from law school in 1981, Mr. Kram served a clerkship with Justice Theodore R. Kupferman in the New York State Supreme Court - Appellate Division. In 1982, he joined the American Broadcasting Company as a Staff Attorney in New York. He was promoted in 1984 to Assistant General Attorney, and in 1986, to General Attorney. Mr. Kram is a member of the New York State Bar and is admitted to the Federal District Court for the State of New York. He is a member of the Academy of Television Arts and Sciences, and is on the Advisory Board of Directors of the International Television Academy.
---
Dr. Lester is the fourth Executive Director to lead the Commission since its creation in 1972 with the passage of Proposition 20. Prior to his appointment, Charles served as Senior Deputy Director of the Commission, holding that position since 2006. His employment at the Commission began in 1997. Previously, Dr. Lester was an Assistant Professor of Political Science at the University of Colorado, Boulder.

Dr. Lester received his Ph.D in Jurisprudence and Social Policy from the University of California at Berkeley. In addition, he earned his J.D. at Boalt Hall School of Law and a B.A. in Geochemistry from Columbia University.